Enhance Employee Wellbeing: Chair Massage Therapy in Oxford
Promote a Healthy Workplace with Office Massage in Oxford
Call our Oxford team on 01865 800 921 for more information.
Taking care of your employees is crucial for staff retention, and workplace massage is an incredibly cost-effective and nurturing way to cultivate lasting relationships with your team. Our Sense therapists, based in and around Oxford, are qualified in various therapies, including reflexology (hand and foot massage), Indian head massage, and indulgent on-site chair massage.
Corporate Massage: A Range of Treatments for Your Next Corporate Event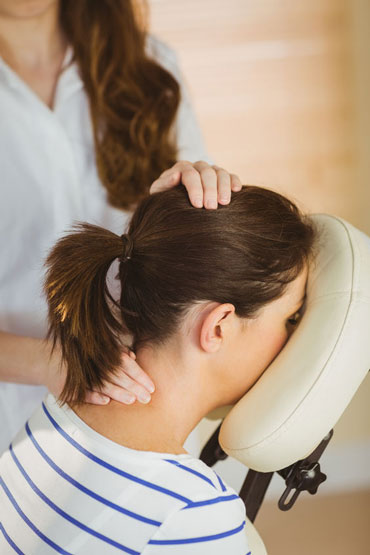 Why not liven up your next corporate event and treat your employees or partners to an indulgent massage treatment? We offer a range of on-site treatments including chair massage, reflexology and Indian head massage, all of which are flexible treatments which can be provided in any setting. Sense provide corporate massage for big or small events, indoors and outdoors, and for a wide range of industries - so why not give us a try? Corporate massage is cheaper than you think, and makes a great impression that your guests will never forget.
Wellness Days for the Workplace
If your company provides staff fun days or team-building events, then why not consider holding a wellness day for your next event? Wellness Days are a great way to show your staff that you care about their wellbeing, and can give them chance to reground during busy season or as a treat at the end of one. From on-site massage to suit every taste, to classes such as mindfulness, meditation and yoga, allow your team to unwind and recharge, ready for the next working day!
As well as offering on-site massage for offices and corporate Wellness Days, massage is a great addition to all kinds of events and needs. From golf days, weddings, hen do's and other special days, to fundraisers, festivals, fetes and community events, massage makes any event one to remember!
Sense Massage Therapy's Impact: Fostering Wellbeing & Unity in Diverse Industries
Sense Massage Therapy has a longstanding history of transforming companies across the UK through our on-site massage and wellness services. We're passionate about demonstrating the incredible benefits of employee wellbeing, helping to create happier, healthier workplaces.
Experience the transformative power of office massage. Call us at 01865 800 921 or request a free, instant quote online. Join the ranks of thriving businesses in Oxford!
We're also available in: Kidlington, Abingdon, Woodstock, Steventon, Witney, Piddington, Didcot, Poffley End, Bicester and Tadley.