On-Site Chair Massage in Bicester
Offering Office Massage in Bicester and throughout Oxfordshire
Sense Massage Therapy provide on-site massage in Oxfordshire regularly, and office massage, like all massage, has numerous health benefits and has been proven to reduce stress. That's why offering office massage to your staff not only improves staff retention, but also reduces the likelihood of the need for sick days, saving you vast amounts in the long run too. It's a win-win for everybody!
Engage Your Customers with Corporate Massage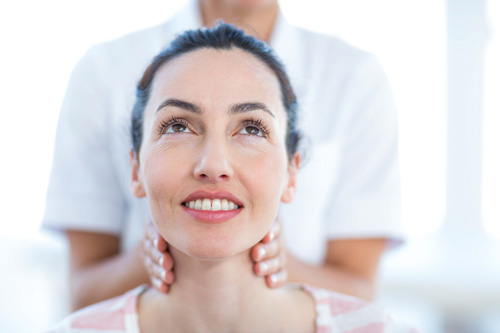 When it comes to exhibitions and marketing promotions, it's important to stand out so that you make a lasting impression on potential customers. Massage helps engage people of all ages, and treatments are an exciting and unusual activity that never ceases to draw on people's curiosity. Companies all over the UK use Sense to enhance their corporate events and promotions, using massage to open doors in ways many never thought possible.
Hire Yoga and Mindfulness Instructors in Bicester
In addition to on-site massage, Sense Massage Therapy also provides instructors for a range of fabulous classes for hire in Bicester. These include yoga and stretching, as well as the ever-popular mindfulness, to help your staff or guests unwind and take the time to relax. Whether you want to hire our instructors for your next staff wellness day or for a big event - whether corporate or personal - our classes are a great inclusive activity to get everyone involved.
In addition to on-site and events massage, Sense Massage Therapy also works with those in the media industry, providing massage treatments to those on set, from the actors, their crew and the editing team to the backstage crew at music performances and the performers themselves. Massage keeps everybody motivated, happy and relaxed within what can be a very hectic and stressful atmosphere, and helps make everybody more driven to get things done.
The UK's Experts in On-Site Massage
Sense Massage Therapy have been organising on-site massage for events and offices throughout since 2000, and our therapists have been working in the industry even longer. With extensive experience and unrivalled professionalism, you can be sure that your event with us will go off without a hitch every time.
Interested? Check out our prices or get a free instant quote sent straight to your inbox now, or if you prefer, speak to one of our team members to see which of our services might be right for you. For more health related information, you can also check out our blog where we regularly post useful tips on stress management, wellbeing and health related topics.
We're also available in: Piddington, Kidlington, Brackley, Buckingham, Banbury, Oxford, Over Norton, Ramsden, Over Worton and Poffley End.