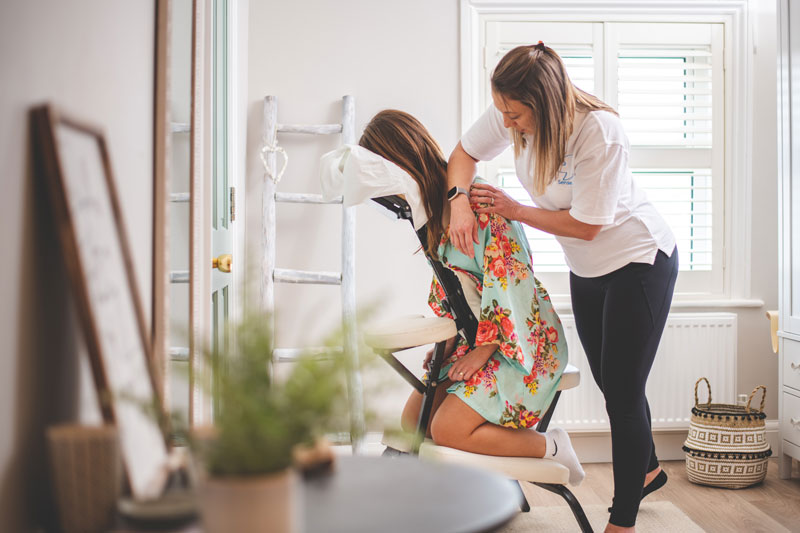 At Sense Massage, we offer massage therapy for a wide range of events, ensuring the well-being and satisfaction of attendees.
Corporate Events and Conferences
Aside from golf days, on-site massage is a fantastic way to revitalise your guests at various corporate events, such as conferences, seminars, or team-building activities. Offering relaxing breaks or short massage sessions during lunch or networking sessions can help reduce stress and improve overall mood, leading to a more productive and engaging event.
Trade Shows and Exhibitions
Trade shows and exhibitions can be bustling environments with long days spent on your feet. Providing on-site massage treatments can help draw visitors to your stand, offering them a much-needed break while they learn more about your products or services. This approach can increase engagement, foot traffic, and ultimately, sales.
Weddings and Parties
On-site massage can be an excellent addition to weddings, engagement parties, or anniversary celebrations. Guests can enjoy a relaxing treatment without having to disrobe or interrupt the festivities. Offering massage services at your event adds a unique touch that guests will appreciate and remember.
Sports Events and Tournaments
For sports events like football tournaments or cycling races, on-site massage can help participants recover from physical exertion, reduce the risk of injury, and improve their overall performance. Attendees can benefit from a rejuvenating massage to relax and enjoy the event to the fullest.
Film and TV Production Sets
On-site massage is a fantastic addition to film and TV sets, helping cast and crew unwind and boost morale during long hours. Set up a massage station on set or at wrap parties to reward their dedication. Enhance overall well-being and productivity with this thoughtful touch.
Festivals and Concerts
At festivals and concerts, on-site massage can provide a soothing oasis amid the excitement and noise. Offering massage services in a designated relaxation area can help guests unwind, recharge, and fully appreciate the entertainment and atmosphere.
Health and Wellbeing Fairs
Health and wellbeing fairs are ideal venues for showcasing the benefits of on-site massage. Demonstrating various massage techniques and offering treatments can generate interest in your services and help educate attendees about the importance of self-care and relaxation.