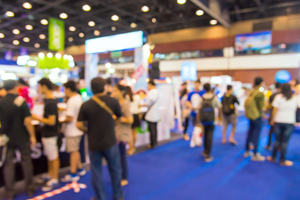 Sense has been providing massage for exhibitions and events for almost 20 years.
Not only do we draw delegates to almost any exhibition stand, delegates who are waiting for a treatment are often very happy to talk to your staff whilst waiting - giving you an almost unparalleled opportunity to talk to visitors.
Our unique on-line appointment system can allows your visitors to book their own massage appointments, saving your staff's valuable time on the stand and giving you full visibility of who's had a treatment.
We can provide as many therapists as you need for your exhibition. You can get prices right away or create your own custom quote.
Here a few tips to help you with your exhibition:
---
What are the goals from the exhibition?
Ensure that your exhibition goals adhere to your core marketing objectives.
Exhibitions are probably just one element of an overall marketing campaign and thus need to ensure that they help achieve your marketing aims and objectives.
Don't enter into an exhibition without considering what you want the end result to be.
Here are some reasons why companies exhibit:
High-profile product launches 
Increase demand for the product 
Educate the target market 
Obtain research from the target market 
Communicate a corporate image 
How to display your products without cluttering your stand.
In a perfect world, your exhibition stand would only feature a couple of products. However, as we know, other pressures often ensure that this isn't possible.
When you have a relatively small exhibition booth and a lot of products to exhibit, there are a few tricks you can employ to make the most of your space:
Use the back wall of your stand to hang your products. As well as creating an interesting backdrop, this frees up valuable space. 
Try to incorporate steps into your stand; you can then use them to display exhibits. 
Put some thought into the design of the booth. Elements such as drawers and stands can be used to mount products. 
I'm not happy with the placement of my stand. Is there anything I can do?
Most organisers will operate on a first come, first served basis. So to get the stand you want, you really should book it well in advance. Of course, it is not always that simple. If you have been assigned a mediocre space and would like one with a better profile, let the show organisers know the size of the booth you would ideally like and get yourself on a waiting list. Exhibitors do drop out of shows and the vacant space needs to be filled. Make sure you are ready to move stands and wait to act if anyone drops out. You should bear in mind that moving stands at late notice can work be quite costly. Are the extra costs involved less than the opportunity cost of not moving?
Should I promote my special offers?
It is absolutely essential that any special offers be communicated with your audience. Your stand should follow the same principles as any good retail outlet. 
Place signs on the outside of your stands to tell potential customers of your special offers and they will come and see you. Everyone likes the idea of saving money!
I need somewhere private to talk to potential clients
There are many ways you can fragment your stand. One excellent way is to use blinds as walls in order to make intimate meeting rooms. This technique was employed by the Exhibition Director, for the CBI conference/ exhibition at The ICC in 1996.
"By using blinds to separate your stand, you create the ideal room for informal meetings. They are not sound proof, but they don't have to be."
I want my stand to be different
For most industries the aim is to make their stand as prominent as possible.
What do you do if you find your stand is the same as most others and there is no apparent reason for this? If you want your stand to break out of this uniformity and are facing opposition, what do you do?
Audio/Visual displays can add a new dimension to your stand and can make visitors stop for a while. 
On-Site Massage from Sense is one of the most cost-effective ways to attract people to your stand. With the added benefit that after a treatments, visitors will open up to give you much more information. For a free quote click here. 
A game or quiz with a large prize can often attract people to the stand. 
How do I get your customers to recommend me?
Testimonials are regularly used by sales people. They offer a certain amount of credibility for customers who are, quite understandably, reluctant to part with their money. Place relevant testimonials next to your exhibits and let your customers do your selling for you.
How do I make my invitations as inviting as possible?
If you have an expert in calligraphy working in your office – fantastic!
If you don't, why not use your computer to make it appear that your invitations have been addressed by hand?
If you use a script-style font and edit your macros accordingly, the results can be very impressive.
Four ways to bring your product portfolio to the show
It might not physically possible to bring every product you produce to the show and this can cause concerns that potential customers will think that what is on show is all that you offer. Here are some ideas on how to show your stand visitors that you offer a lot more than what is on show:
Video can be a tremendous tool. Why not video your products in action and have it running at the back of your stand? 
Make models of your products. If you have a huge product you would like to display, a scaled version can get the message across without the hassle of getting a ten tonne piece of machinery into an exhibition hall. 
If you don't want to bring masses of product literature to the show, why not simply get a few thousand show-specific business cards produced. List all the details on how to obtain further information, so it's clear where interested parties can go to if they want to receive further information. 
It may not be possible to put a presentation on to CD or even floppy disks. So why not get an Internet feed. Then all you will require is a PC to let your visitors browse through what's on offer. 
Is literature on the product a good or bad thing?
You would think that literature about the products you are pushing would always be a positive selling tool. However, this is not necessarily the case. By placing your brochures outside your booth you are inviting potential clients to grab one, rather than coming to speak to you.
If you've ever seen the aftermath of an exhibition, you're probably aware that a very high percentage this literature ends up either in a bin or on the floor.
So what's the solution? Be clever. If you need to use brochures, stack them inside the booth or have somebody handing them out to people who leave the booth. Why not use the web? By creating a website instead of brochures, all you have to hand out is a card with the addresses on. People will be a lot less likely to throw away a business card than they would a weighty brochure.
The best way to promote your stand at the exhibition
You've got the stand you want and you're happy with the product range. All you need to do now is get people to the show.
All venues will have substantial advertising opportunities available; this is a virtually guaranteed way to get visitors to your stand. However, there are a few simple advertising principles that need to be followed - clarity equals more visits.
Advertisements which aren't immediately clear may work well in certain situations but the hustle and bustle of an exhibition venue is perhaps not the place. State your message, say where you are and people will visit.
Use the web
The Internet is a low cost marketing tool that, if used correctly, can reach thousands. 
If your company has a web site, make sure you communicate the fact that you are exhibiting at an exhibition through the web site. State where you are and invite visitors to speak to you.
The show itself will have a web site or social media page, so get your details on there if possible.
The venue itself is vital. Many venue sites will now offer you space on their site, if you ask – so ask!
A whole new industry in virtual exhibitions has grown up in the last couple of years. If the show has a virtual show running along side it, make sure you are there (many people who register for trade shows never actually attend. This is the perfect way of communicating with them.)
Make sure all potential leads are followed up
It sounds a simple enough concept, but you would be amazed at the amount of leads that are never followed up. Sources put the figure as high as 80 per cent, making you wonder why they exhibit.
All good stand managers will ensure that as part of the preparation of the show, a follow-up plan has been decided upon.
Getting the attention of the media
Make sure everybody working on your stand targets people with press badges. Greet them positively and ensure that a demonstration is always available there and then. If you ask them to schedule an appointment, it is quite likely they will never return.
Have your key staff available at all times; make sure they have their mobile phones switched on permanently.
Get your name known
As with any retail environment, a lot of products and services are purchased simply because of the customer's awareness of the brand.
Exhibitions are no different. Make sure your name is clear on your stand and get your brand everywhere, including brochures, advertisements, give-aways, mailers and hotel door drops.
Make them go where you want them to go.
You want your salespeople to greet potential customers as quickly as possible. To predict how attendees of an exhibition will flow on to your stand can be tricky if it is open from all directions. By constructing your stand in such a way that there is only one entrance and one exit, you have a predictable traffic flow. Then all stand visitors can be greeted and thanked for visiting.
Keep an eye on the competition
It is important to make sure you know what the competition is up to. During the show a lot of spies are sent out on fact-finding missions. It is the best time to do this – most of the competition being under the same roof.
However, sometimes not all of the industry's leading companies are at the exhibition and it is important to find out why they are not attending. Maybe absent firms are suffering financial problems and that may present an opportunity. Maybe, they have deliberately decided to avoid this particular exhibition. If so, why?
Designing your stand
Ensure that your stand has been designed so that it is your products are visible from a distance.
Make it easy for a customer to browse without feeling pressured by salesmen or the sort of claustrophobic feeling an enclosed stand may give. You then give customers chance to assess your products and gain advice from your sales team later when the interest has been captured.
Make sure you use certified electricians
Ensure that competent electricians who adhere to the 'Exhibition Venues Association - Regulations For Stand Electrical Installations', undertake all exhibition wiring on stands.
Security tips for exhibitors
Do not leave cash, handbags, valuables etc in unlocked drawers or cupboards on exhibits in the hall. 
Do not ask your neighbour to keep an eye on your stand. If they get busy you could be the loser 
Do not leave your exhibit at night before visitors are clear of the show. 
Check all lockable units before leaving the stand. 
Report anything of a suspicious nature immediately to security by telephoning the security officer or the organiser. 
The lunch period 1200 – 1400 hours requires particular attention. 
Any exhibitor having small valuables, which they wish to leave on their stand, should provide themselves with lockable cabinets or other safe storage.