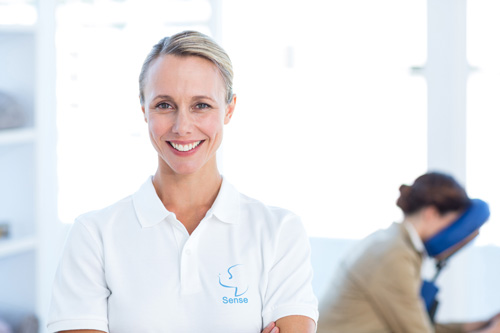 Sense Massage Therapy has been providing office massage into companies across the UK and Ireland since 2000, and we're proud be one of the oldest and most-trusted agencies in the industry to date.
We strive to make using our services a joy, not only for your staff during their massage treatments, but for you and your company, guiding you through process of setting up a day of massage seamlessly and effortlessly. If you've never tried workplace massage before, we're here to take care of you! 
Why bring massage into the office?
Massage brings many benefits to the individual, including:
alleviating back and shoulder pain
reducing blood pressure
relaxing the nervous system
relieving stress and tension
improving range of motion and circulation
strengthening the immune system
Many of the above benefits have been shown to improve alertness and concentration, stress management and staff overall physical and mental wellbeing, as well as directly dealing with aches and pains caused by office working conditions. Taking care of your desk-bound staff in this way shows that you care for their wellness and has been shown to drastically reduce absenteeism and staff turnover. The immediate effects also will give your employees a fabulous boost in motivation and improve overall office morale, and we have helped a number of companies in 'crunch-times' when workloads are intense to help manage and reduce staff stress-levels.
Birmingham  |  Cardiff  |  Manchester  |  Leeds  |  Edinburgh  |  London  
Office Massage Treatments We Offer
Our most popular office massage treatments are as follows; please click the links below to find out more about each option.