Workplace Massage in Piddington
Offering Office Massage in Piddington and throughout Oxfordshire
Sense Massage Therapy provide on-site massage in Oxfordshire regularly, and office massage, like all massage, has numerous health benefits and has been proven to reduce stress. That's why offering office massage to your staff not only improves staff retention, but also reduces the likelihood of the need for sick days, saving you vast amounts in the long run too. It's a win-win for everybody!
Engage Your Customers with Corporate Massage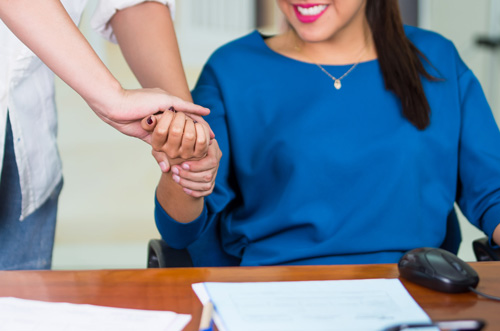 When it comes to exhibitions and marketing promotions, it's important to stand out so that you make a lasting impression on potential customers. Massage helps engage people of all ages, and treatments are an exciting and unusual activity that never ceases to draw on people's curiosity. Companies all over the UK use Sense to enhance their corporate events and promotions, using massage to open doors in ways many never thought possible.
Wellness Days for the Workplace
If your company provides staff fun days or team-building events, then why not consider holding a wellness day for your next event? Wellness Days are a great way to show your staff that you care about their wellbeing, and can give them chance to reground during busy season or as a treat at the end of one. From on-site massage to suit every taste, to classes such as mindfulness, meditation and yoga, allow your team to unwind and recharge, ready for the next working day!
On-Site Massage for Weddings and Special Occasions
When it comes to your special day, you'll certainly want to entertain your guests in between the photos and food, and massage is one of the wonderful ways you can treat them! With foot reflexology to soothe those souls in heels, hand reflexology for those who want to be pampered but stay looking pristine, and soothing shoulder rubs and acupressure back massage for those that want to totally relax - there really is something for everybody.
Trust in Sense Massage For a Reliable Service
Our team at Sense Massage have been providing on-site treatments since 2000, and we have hundreds of trained therapists based all around the UK, with many based near Piddington, ready to make your next event a huge hit! With our comprehensive experience organising on-site massage for all events, big or small, you could say we're the McDonalds of massage: you can trust in Sense to deliver a perfect service every time.
Interested in learning more about on-site massage and the therapies we offer? Visit our service page to find out all about each treatment, or get in touch with our team today.
We're also available in: Bicester, Kidlington, Brackley, Buckingham, Banbury, Oxford, Ramsden, Over Worton, Over Norton and Poffley End.