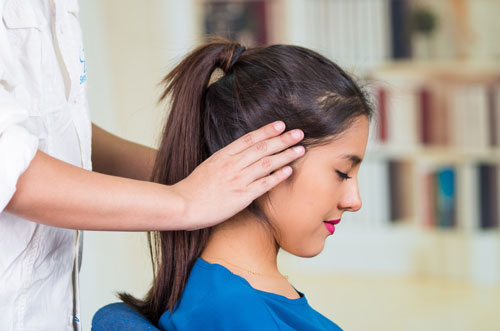 Desk massage treatments are a hugely popular office massage treatment due to its flexibility and cost-efficiency , making it a great addition to any workplace wellbeing program or stress management program. These quick and easy treatments will leave your staff feeling refreshed and revitalised, without even having to leave their workstation.
How does desk massage work?
One of our Sense therapists will visit your office, and provide short head, shoulder and neck massage treatments for your staff while they are seated conveniently at their desk.
You can make the length of these treatments whatever you like, or decide how you want to split the time on the day, but we recommend a minimum of 10-15 minutes per treatment so each employee gets enough time to really switch off. 
Birmingham  |  Manchester  |  Leeds  |  Edinburgh  |  London
Why desk massage?
Desk treatments are often utilised in call centres and other industries where it is difficult for staff to leave their desks, or in offices where there is a high volume of staff in one area. Since no set up area or equipment is needed, these upper back, neck and shoulders rubs are perfect for alleviating stress and tension anywhere, anytime. 
This treatment is also our most efficient, since, in addition to not requiring any equipment, there is a much shorter turnaround time between treatments because the therapist simply goes from desk to desk. This means less cost for you! With desk massage, a larger number of staff can be treated in a set time compared to other treatments such as chair massage, where therapists must allow time to clean the head gate and arm rests between treatments. 
The benefits of desk massage
Relieves stress and improves mood
Relieves muscular neck and shoulder tension, frequently caused by desk work
Cheapest & most cost-effective office massage treatment
Lots of staff can be treated
No equipment is needed - the massage is given to each staff member in their own chair
No designated space required - great for small offices
Massage works around your staff - team members can raise their hand at a time suitable for them to have their desk massage
How much does it cost?
Number of Hours
One-Off Booking
Recurring Booking
We try to keep our prices as low as possible whilst also being fair to our team, so these incremental costs also cover our therapist's travel time to and from your venue.