Desk Massage in Didcot
Office Massage in Didcot and Managing Workplace Stress
Office massage is great for managing stress in the workplace, offering your staff in Didcot time to relax and ease away muscular as well as emotional tension. Offering on site massage as a yearly, quarterly or monthly bonus for staff can also help manage stress levels long term by raising morale and keeping the team motivated, giving them a regular treat to look forward to. We've found regular workplace massage has been particularly helpful in highly-pressurised industries, and we've already helped many companies based in and around Didcot in these stressful niches such as sales, teaching, finance and many more.
Engage Customers at Your Next Event with Corporate Massage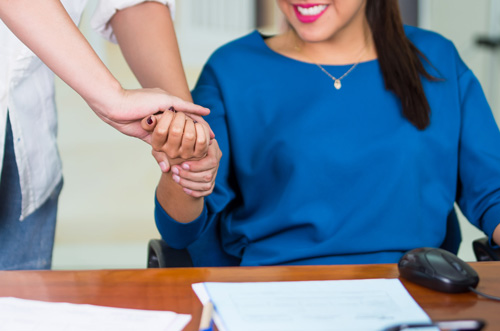 On-site massage is also a great way to create a lasting impression with customers, as well as helping your business or marketing promotions stand out. Engage the people of Didcot in a way they've never experienced before by having a Sense therapist providing corporate massage at your event, or you can also utilise our corporate massage options for internal corporate events such as staff wellbeing days.
Wellness Days for the Workplace
If your company provides staff fun days or team-building events, then why not consider holding a wellness day for your next event? Wellness Days are a great way to show your staff that you care about their wellbeing, and can give them chance to reground during busy season or as a treat at the end of one. From on-site massage to suit every taste, to classes such as mindfulness, meditation and yoga, allow your team to unwind and recharge, ready for the next working day!
In addition to providing on-site massage for corporate events, we also do massage for home and private events, including everything from evening parties to bigger occasions. We can visit your home for a pamper night in with the girls, making us a perfect addition for Hen Dos and big birthday parties. Alternatively, add massage to the biggest event in your life - your wedding! We regularly provide massage at weddings as it's a wonderful activity for guests to enjoy throughout the day, in between the photos, food and dancing.
Bringing People Together with Massage Since The Millennium
Founded in 2000, Sense Massage Therapy has worked to bring people together and foster wellbeing awareness within hundreds of companies in nearly every sector; from finance and marketing firms, to schools training days and bespoke promotions, we really have done it all. Our dream is to bring massage and wellness to every company, and show businesses how powerful caring for staff, partners and customers can be. You'll be surprised at the benefits! It really is true: give just a little, and you'll get such a lot.
Interested? Check out our prices or get a free instant quote sent straight to your inbox now, or if you prefer, speak to one of our team members to see which of our services might be right for you. For more health related information, you can also check out our blog where we regularly post useful tips on stress management, wellbeing and health related topics.
We're also available in: Wantage, Oxford, Thatcham, Newbury, Henley-on-Thames, Pishill, Park Corner, Pusey, Play Hatch and Thame.