A Healthier Work Environment: On-Site Massage in Bristol
Enhance Well-being and Productivity with Office Massage in Bristol
Call our Bristol team on 0117 242 2401 for more information.
In today's fast-paced work environment, office massage has emerged as an essential service to combat stress and enhance overall well-being. Our skilled therapists in Bristol are committed to providing exceptional on-site massage services, ensuring your staff feel rejuvenated and valued.
Corporate Massage: A Range of Treatments for Your Next Corporate Event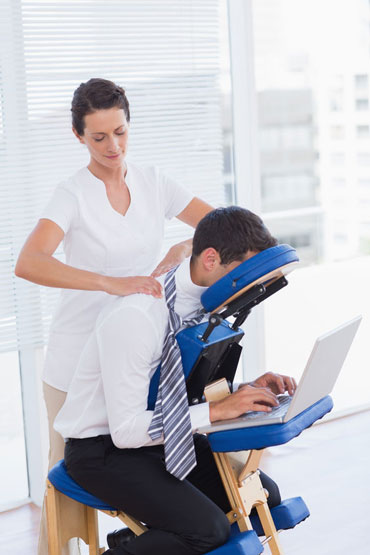 Why not liven up your next corporate event and treat your employees or partners to an indulgent massage treatment? We offer a range of on-site treatments including chair massage, reflexology and Indian head massage, all of which are flexible treatments which can be provided in any setting. Sense provide corporate massage for big or small events, indoors and outdoors, and for a wide range of industries - so why not give us a try? Corporate massage is cheaper than you think, and makes a great impression that your guests will never forget.
Elevating Staff Training with Wellness Services
Elevate your staff training days by incorporating wellness services, such as yoga and mindfulness classes, alongside traditional training activities. This approach not only increases employee engagement but also provides an opportunity for staff to relax and recharge during a busy training schedule.
As well as providing on-site massage for offices and large corporate events, Sense Massage also caters for smaller occasions such as community events, offering everything from sports massage at the end of local sportives to relaxation stalls at festivals and fetes. Whatever your event, big or small, we can guarantee that massage will make it so much more memorable for all involved - and will certainly go down a treat every time!
It Makes Sense To Care
At Sense, we're proud of our friendly but professional approach, taking care to always ensure we deliver a reliable service. With our attentive customer service team on hand whenever you need us, you'll feel looked after from start to finish, and can advise you on the perfect massage solution for your event - big or small!
So, what have you got to lose? See our prices now or get your free online quote today. If you prefer, have a chat with one of our team members about how we can help you. Call now on 0117 242 2401. You can also check out our blog for regular health tips and information, or try our free online stress test to see if you need a massage yourself!
We're also available in: Stapleton, Horfield, Cotham, Fishponds, Frenchay, Westbury on Trym, Kingswood, Clifton, Henbury and Knowle.