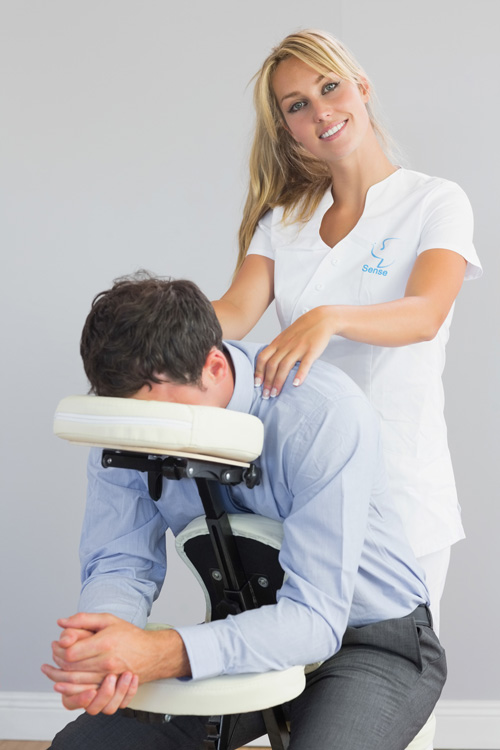 On-site chair massage is a treatment specifically designed for the workplace, as seated massage is applied in a specially designed chair that is portable and can be set up anywhere.
The chair is adapted to suit each individual and will allow you to fully relax as it takes pressure off the postural muscles that work constantly when you are in the seated position at your desk, as well as the head and neck.
Birmingham  |  Manchester  |  Leeds  |  Edinburgh  |  London
How does on-site chair massage work?
There is no need to disrobe since no oils or creams are used for the treatments. It's quick, clean and easy: ideal for the workplace or other corporate events.
Each person is required to complete a safety form prior to their massage to ensure our therapist is aware of any employee injury or ailment, so that we can best take care of your staff. Following this, our massage therapists will apply soothing acupressure techniques along the back, neck, arms, shoulder and head, to leave your staff feeling relaxed and rejuvenated, relieved of stress and psychical tension. 
We tailor our massages to not only relax, but revitalise the individual, so our therapists finish each treatment with a number of light, bright, stimulating movements to boost staff with energy, and leave them feeling invigorated, refreshed and ready for anything.
Heard enough? Get an instant quote now!
Tailored chair massages for your staff
At Sense, we care about your staff and we want them to get the most out of their treatment with us. So unlike others in the industry, each of our therapists will modify the chair massage to suit your staffs' needs and create a bespoke routine, just for them. For example, if an individual has tight shoulders or a sore lower back, they may require our therapists to concentrate more on this area; in essence, whatever they need, we will provide, to leave them feeling the best they possibly can be. Our therapists always tailor the pressure to the individual and can omit treating certain areas depending on their preferences.
How long do treatments last?
The treatments can vary in length to suit your needs, but our standard treatment lengths are 15, 20 and 30 minutes.
The benefits of on-site chair massage
On-site chair massage is specifically designed to be a flexible mobile treatment, and an effective way to reduce the build-up of tension in the back, neck and shoulder regions, as well as to help relieve stress.
The benefits of on-site massage are numerous and it has been shown to:
help reduce RSI
relax muscles
reduce tension
ease headaches and eyestrain
relieve aches and pains.
More importantly, chair massage treatments have been shown to alleviate the symptoms of stress, so can offer a great relief from the busy workplace, or our busy lives day to day.
After the treatment, we advise you to drink plenty of water and avoid stimulants such as tea or coffee, and encourage deep breathing and plenty of fresh air. At the end of the treatment there is the opportunity to give feedback, either through our feedback system or on the appointment sheet.
On-site massage is an immediately beneficial way of relieving your staff of work-related stress, and a great, cost-effective addition to any staff retention program or employee wellness program. The massages can be given in a vacant office or meeting room, although treatments can easily be given in a quiet corner of a large open-plan.
How much does it cost?
On-Site Chair Massage Prices
Number of Hours
One-Off Booking
Recurring Booking
We try to keep our prices as low as possible whilst also being fair to our team, so these incremental costs also cover our therapist's travel time to and from your venue.
Want a bespoke on-site chair massage quote? Click here!