A Happier Workplace: Office Massage Therapy in Leeds
Office Massage in Leeds and Managing Workplace Stress
Call our Leeds team on 0113 856 2955 for more information.
Office massage is great for managing stress in the workplace, offering your staff in Leeds time to relax and ease away muscular as well as emotional tension. Offering on site massage as a yearly, quarterly or monthly bonus for staff can also help manage stress levels long term by raising morale and keeping the team motivated, giving them a regular treat to look forward to. We've found regular workplace massage has been particularly helpful in highly-pressurised industries, and we've already helped many companies based in and around Leeds in these stressful niches such as sales, teaching, finance and many more.
Enhance Corporate Events with On-site Massage Services
Stand out from the competition at your next corporate event by offering an unforgettable on-site massage experience for attendees. Our team of skilled therapists will not only impress guests but also create a relaxed and enjoyable atmosphere, helping to increase engagement and brand awareness.
Holistic Wellness Activities for Corporate Events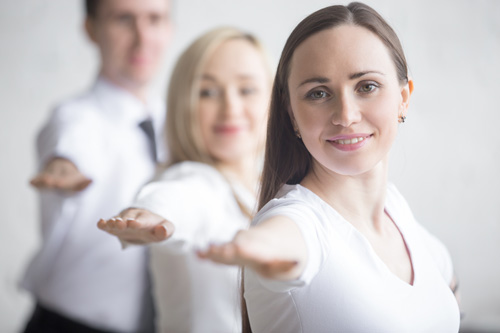 Offer a comprehensive wellness experience for your employees or event guests with our range of holistic activities, including yoga, stretching, and mindfulness classes. These activities are ideal for staff wellness days, corporate events, or even private functions, providing a unique and engaging experience for all involved.
As well as providing on-site massage for offices and large corporate events, Sense Massage also caters for smaller occasions such as community events, offering everything from sports massage at the end of local sportives to relaxation stalls at festivals and fetes. Whatever your event, big or small, we can guarantee that massage will make it so much more memorable for all involved - and will certainly go down a treat every time!
Experience Matters: On-Site Massage Services in West Yorkshire by Sense Massage Therapy
With a wealth of experience in providing on-site massage treatments since 2000, Sense Massage Therapy caters to various events across West Yorkshire. Our highly skilled therapists ensure a seamless and professional service, making your event memorable for all the right reasons.
Transform your office environment with our on-site massage services. Call our team on 0113 856 2955 or get a free, personalised quote right now. Elevate your employees' well-being!
We're also available in: Chapeltown, Halton, Horsforth, Rothwell, Pudsey, Morley, East Ardsley, Garforth, Yeadon and East Keswick.