On-Site Chair Massage in Wantage
Office Massage in Wantage and Managing Workplace Stress
Office massage is great for managing stress in the workplace, offering your staff in Wantage time to relax and ease away muscular as well as emotional tension. Offering on site massage as a yearly, quarterly or monthly bonus for staff can also help manage stress levels long term by raising morale and keeping the team motivated, giving them a regular treat to look forward to. We've found regular workplace massage has been particularly helpful in highly-pressurised industries, and we've already helped many companies based in and around Wantage in these stressful niches such as sales, teaching, finance and many more.
Corporate Massage Can Help You Beat Your Competitors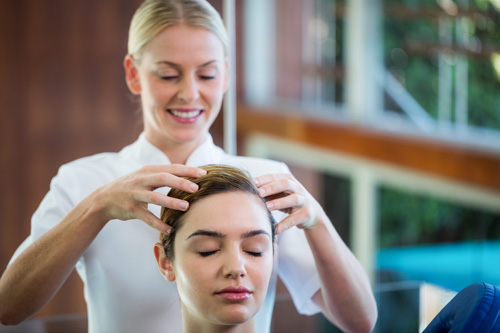 Want to stand out from your competitors? On-site massage could give your marketing promotions the edge they need. Massage brings people together, and whether you utilise it for making that initial connection with your customers, or at internal or external corporate events, a relaxing treatment with one of our therapists will certainly leave a great impression - and leave customers, partners or staff feeling wonderful too!
Taking Care of Your Staff Makes Sense
Those with their finger on the pulse of modern business know that investing in your staff is one of the best ways to make your business the best! Wellness days are a great way to give back to staff and show that you care, helping you retain their loyalty, create an awesome atmosphere within your workforce, motivate your team and even improve their mental and physical wellbeing. Taking care of your staff has never made more Sense!
On-Site Massage for Weddings and Special Occasions
When it comes to your special day, you'll certainly want to entertain your guests in between the photos and food, and massage is one of the wonderful ways you can treat them! With foot reflexology to soothe those souls in heels, hand reflexology for those who want to be pampered but stay looking pristine, and soothing shoulder rubs and acupressure back massage for those that want to totally relax - there really is something for everybody.
Sense Makes Massage Simple: No Stress, No Fuss
Sense Massage Therapy is one of the most long-standing and therefore experienced massage company in the UK, and it's our expert knowledge of the industry that mean you can totally relax with us at the helm. With hundreds of therapists based in Oxfordshire, we're sure to have the ideal treatment for your office, party or event, and once you've picked your perfect package we'll get it sorted. Simple.
Interested in learning more about on-site massage and the therapies we offer? Visit our service page to find out all about each treatment, or get in touch with our team today.
We're also available in: Didcot, Pusey, Oxford, Thatcham, Newbury, Poffley End, Witney, Carterton, Great Barrington and Swindon.