Workplace Massage in Trafalgar Square
Offering Office Massage in Trafalgar Square and throughout Greater London
Sense Massage Therapy provide on-site massage in Greater London regularly, and office massage, like all massage, has numerous health benefits and has been proven to reduce stress. That's why offering office massage to your staff not only improves staff retention, but also reduces the likelihood of the need for sick days, saving you vast amounts in the long run too. It's a win-win for everybody!
Corporate Massage: The Perfect Way To Make Your Business Stand Out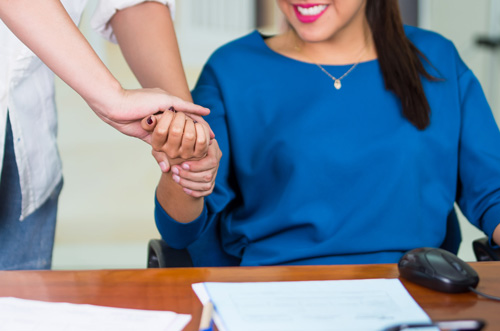 On-site massage is a great addition to many corporate events, from exhibitions and public marketing campaigns, to corporate days such as team building events or corporate wellness days. Massage can not only help your company stand out, but can offer a friendly and inviting way to begin that initial engagement with new potential customers, as well as leaving them with a lasting impression of your business.
Sense Massage also provide a number of other services including classes such as mindfulness and yoga, which are ideal for corporate wellness days. As well as being a great incentive for staff and a motivator for throughout the year, Wellness Days also offer a chance for teams to come together and bond, taking the time to really reground themselves and de-stress together.
Lights, Camera, Massage! On-Set Massage for Film, TV and Other Media
All filming sets can be hectic at times, and we've worked with all kinds of media groups in and around Trafalgar Square, helping keep the team and cast motivated and the atmosphere positive - and we can do the same for you! In addition to media sets and stages, our on-site massage therapists also work on a number of other more unusual settings, including local events, festivals, golf days and even weddings, bringing something different to each but always making sure everyone has a wonderful time.
Get So Much More Than You Give With Massage
At Sense Massage Therapy, we believe that if you care for others, they will show that same care and devotion to you - and this is even more true for businesses and brands in the modern age. Whilst many businesses may overwork their staff or praise those that burden excessive stress, the long term effects of these behaviours can leave staff feeling neglected, overwhelmed and burnt-out. That's why we want to show the world that by looking after those who work for you, work with you, buy from you, you can get back so much more than you give: loyalty, trust, commitment. These earned gifts not only build the best businesses, but they help us build a better place to live in, where we focus on the people, and helping each individual live a happy, healthy life. We know that massage is only one part in this process, but it certainly is a caring one, as it relieves both mental and physical stress - and we would love to help you today.
So call us today and talk with a member of our team, or get a free instant quote here. We can't wait to work with you!
We're also available in: Covent Garden, Embankment, Leicester Square, Essex Road, Islington, Hoxton, Ladbroke Grove, West Kilburn, Kensal Town and Marble Arch.