Desk Massage in Rowley Regis
Motivate your Workforce with Office Massage: Therapists in Rowley Regis
Boost employee morale with workplace massage that can relax and rejuvenate your staff. Alternatively, you can offer office massage as part of an employee retention program to keep your team motivated, healthy and happy! Book therapists for office massage in Rowley Regis today or find out more about the treatments available on our office massage page.
Corporate Massage Makes for a Memorable Event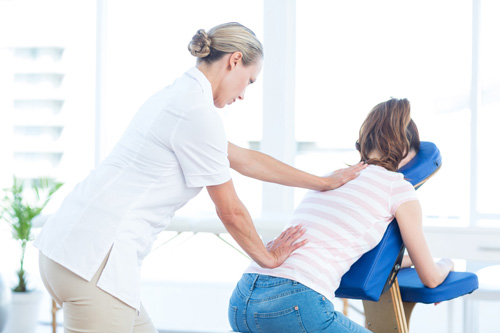 Corporate massage is flexible, fun and memorable for everyone involved, and when it comes to creating an exciting corporate event for partners and staff, or even potential customers, countless companies have found massage to be the most talked-about part of the day. On-site massage is also great for marketing promotions such as exhibitions or campaign stalls; big names such as Volvo have used our services for such events and seen great results!
Sense Massage also provide a number of other services including classes such as mindfulness and yoga, which are ideal for corporate wellness days. As well as being a great incentive for staff and a motivator for throughout the year, Wellness Days also offer a chance for teams to come together and bond, taking the time to really reground themselves and de-stress together.
Lights, Camera, Massage! On-Set Massage for Film, TV and Other Media
All filming sets can be hectic at times, and we've worked with all kinds of media groups in and around Rowley Regis, helping keep the team and cast motivated and the atmosphere positive - and we can do the same for you! In addition to media sets and stages, our on-site massage therapists also work on a number of other more unusual settings, including local events, festivals, golf days and even weddings, bringing something different to each but always making sure everyone has a wonderful time.
If You Don't Love Us, Get Your Money Back
Sense Massage Therapy have been providing chair massage and other massage treatments throughout the UK since 2000, and it's our outstanding service that means that we will continue to be trusted again and again. We're so confident that you'll love our therapists and our service, we even offer a 100% Money-Back Guarantee - which we're proud to say no one has ever wanted to redeem!
So, if you're interested, view our prices or speak to our team or get a free no-obligation quote from our website today - what have you got to lose? We're here to help you, we don't hard sell because we love what we do, and we hope you will too!
We're also available in: Blackheath, Oldbury, Halesowen, Dudley, Smethwick, West Bromwich, Brierley Hill, Tipton, Stourbridge and Coseley.