Corporate Massage in Kingswinford
Office Based Massage for Companies in Kingswinford
Forward thinking companies in and around Kingswinford are opting for office massage to help motivate, incentivise, revitalise and retain hardworking staff - and you could be too! Our massage therapists located in and around Kingswinford offer a range of treatment options, from hand and foot reflexology, Indian head massage, on-site chair massage and more, there's an option to suit everyone.
Corporate Massage: Making Your Next Business Event Special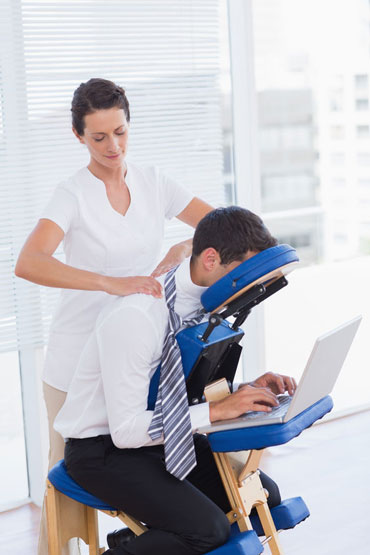 Spark interest and intrigue at your next corporate event by treating guests to an on-site massage treatment. Whether you are looking to nurture business relationships with clients, company partners or staff, or to find new ways to engage and start that initial conversation with potential clients, Sense Massage never fails to leave guests happy! Utilise us for your next marketing promotion or in-house event, and be sure to make your event one that they won't forget!
Bespoke Wellness Packages for Your Event or Party
At Sense Massage, we create bespoke Wellness Packages for every occasion, from corporate Wellness Events to private parties. With a range of classes and treatments to suit the needs of you and your guests - as well as your budget - you're bound to find something to suit your event. Why not get a free instant quote now? Alternatively, feel free to browse our Wellness Day page for more information.
Trust in Sense Massage For a Reliable Service
Our team at Sense Massage have been providing on-site treatments since 2000, and we have hundreds of trained therapists based all around the UK, with many based near Kingswinford, ready to make your next event a huge hit! With our comprehensive experience organising on-site massage for all events, big or small, you could say we're the McDonalds of massage: you can trust in Sense to deliver a perfect service every time.
So, if you're interested in booking on-site massage, or simply want to find out more, get in touch with our team today, or get your free online quote here. If it's prices you need, you can see our prices here. Also, if you'd like to find out more about managing stress in and out of the workplace, wellbeing and improving your health, check out our blog for the latest from our massage and health experts.
We're also available in: Swindon, Sedgley, Brierley Hill, Stourbridge, Dudley, Wombourne, Halesowen, Blackheath, Rowley Regis and Tipton.