Workplace Massage in West Bromwich
On-site Massage for Offices in West Bromwich: Treat Your Staff To Something New!
Looking for a cool way to treat your staff? An on-site chair massage gives immediate results! We already work with a number of companies in and around West Bromwich providing on-site chair massage, offering a number of other therapies including Indian head massage and hand and foot reflexology, and with a great number of Sense Massage Therapists based near West Bromwich we can have someone ready to treat your staff at a moment's notice!
Corporate Massage: Making Your Next Business Event Special
Spark interest and intrigue at your next corporate event by treating guests to an on-site massage treatment. Whether you are looking to nurture business relationships with clients, company partners or staff, or to find new ways to engage and start that initial conversation with potential clients, Sense Massage never fails to leave guests happy! Utilise us for your next marketing promotion or in-house event, and be sure to make your event one that they won't forget!
Offering Bespoke Wellness Day Packages, Unlike Anyone Else in Our Industry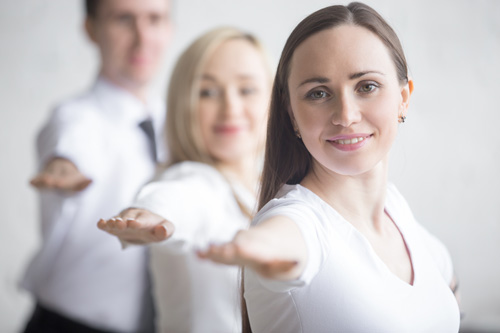 Instead of your regular team-building events for your staff, why not offer them something a little different? Sense Massage Therapy provide bespoke Wellness Day packages, that can include a range of massage treatments, as well as health-oriented classes such as mindfulness and yoga. We create each Wellness Package with your budget and needs in mind, so you and your staff can have the perfect day at the perfect price.
Lights, Camera, Massage! On-Set Massage for Film, TV and Other Media
All filming sets can be hectic at times, and we've worked with all kinds of media groups in and around West Bromwich, helping keep the team and cast motivated and the atmosphere positive - and we can do the same for you! In addition to media sets and stages, our on-site massage therapists also work on a number of other more unusual settings, including local events, festivals, golf days and even weddings, bringing something different to each but always making sure everyone has a wonderful time.
It Makes Sense To Care
At Sense, we're proud of our friendly but professional approach, taking care to always ensure we deliver a reliable service. With our attentive customer service team on hand whenever you need us, you'll feel looked after from start to finish, and can advise you on the perfect massage solution for your event - big or small!
Interested? Check out our prices or get a free instant quote sent straight to your inbox now, or if you prefer, speak to one of our team members to see which of our services might be right for you. For more health related information, you can also check out our blog where we regularly post useful tips on stress management, wellbeing and health related topics.
We're also available in: Oldbury, Tipton, Darlaston, Wednesbury, Smethwick, Rowley Regis, Blackheath, Walsall, Dudley and Bilston.