Desk Massage in Portlethen
Office Massage in Portlethen and Managing Workplace Stress
Office massage is great for managing stress in the workplace, offering your staff in Portlethen time to relax and ease away muscular as well as emotional tension. Offering on site massage as a yearly, quarterly or monthly bonus for staff can also help manage stress levels long term by raising morale and keeping the team motivated, giving them a regular treat to look forward to. We've found regular workplace massage has been particularly helpful in highly-pressurised industries, and we've already helped many companies based in and around Portlethen in these stressful niches such as sales, teaching, finance and many more.
Offering Bespoke Wellness Day Packages, Unlike Anyone Else in Our Industry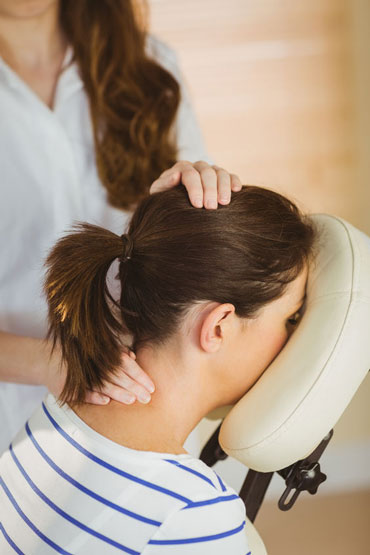 Instead of your regular team-building events for your staff, why not offer them something a little different? Sense Massage Therapy provide bespoke Wellness Day packages, that can include a range of massage treatments, as well as health-oriented classes such as mindfulness and yoga. We create each Wellness Package with your budget and needs in mind, so you and your staff can have the perfect day at the perfect price.
On-Site Massage: Helping Create Memories at Portlethen Community Events
From raising money at local fundraisers, fetes and festivals, to offering sports massages at the end of bike rides or big runs, we really have done it all. If you're organising an event and want to make it one guests never forget, on-site massage can really make the day that much more special. While we do offer some other wonderful wellness activities such as yoga and mindfulness, which are also a great addition to these sorts of events, massage is always a favourite by miles!
Bringing People Together with Massage Since The Millennium
Founded in 2000, Sense Massage Therapy has worked to bring people together and foster wellbeing awareness within hundreds of companies in nearly every sector; from finance and marketing firms, to schools training days and bespoke promotions, we really have done it all. Our dream is to bring massage and wellness to every company, and show businesses how powerful caring for staff, partners and customers can be. You'll be surprised at the benefits! It really is true: give just a little, and you'll get such a lot.
So, what have you got to lose? See our prices now or get your free online quote today. If you prefer, have a chat with one of our team members about how we can help you. You can also check out our blog for regular health tips and information, or try our free online stress test to see if you need a massage yourself!
We're also available in: Aberdeen, Westhill, Stonehaven, Inverurie, Ellon, Montrose, Peterhead, Cupar, Leven and Glenrothes.