Workplace Massage in Peterhead
On-site Massage for Offices in Peterhead: Treat Your Staff To Something New!
Looking for a cool way to treat your staff? An on-site chair massage gives immediate results! We already work with a number of companies in and around Peterhead providing on-site chair massage, offering a number of other therapies including Indian head massage and hand and foot reflexology, and with a great number of Sense Massage Therapists based near Peterhead we can have someone ready to treat your staff at a moment's notice!
Corporate Massage: A Range of Treatments for Your Next Corporate Event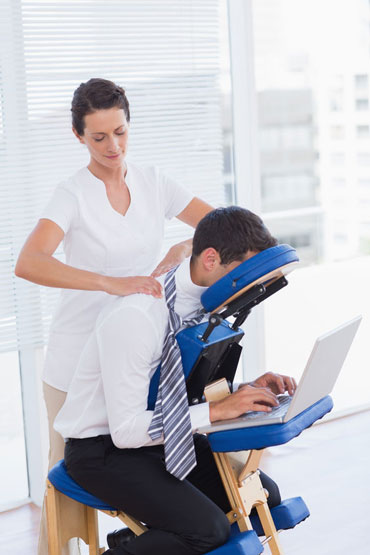 Why not liven up your next corporate event and treat your employees or partners to an indulgent massage treatment? We offer a range of on-site treatments including chair massage, reflexology and Indian head massage, all of which are flexible treatments which can be provided in any setting. Sense provide corporate massage for big or small events, indoors and outdoors, and for a wide range of industries - so why not give us a try? Corporate massage is cheaper than you think, and makes a great impression that your guests will never forget.
Massage and Wellbeing Classes for Wellness Events
You can also include on-site massage as part of corporate wellness days or a variety of wellness events, such as health exhibitions and so much more. As part of our Wellness Package we offer classes such as mindfulness and yoga, or you can book these classes on their own if you already have some other activities lined up - but massage is always a winner!
Add a De-Stress Station to Any Event or Venue, from Golf Days to Fundraisers
On-site massage is a great addition to pretty much any event, and our therapists have worked at all sorts! Setting up de-stress stations at fundraisers, on golf days, at festivals, on film sets and at many other types of events and venues, we help to bring something different to the day and keep faces smiling and shoulders relaxed.
Bringing People Together with Massage Since The Millennium
Founded in 2000, Sense Massage Therapy has worked to bring people together and foster wellbeing awareness within hundreds of companies in nearly every sector; from finance and marketing firms, to schools training days and bespoke promotions, we really have done it all. Our dream is to bring massage and wellness to every company, and show businesses how powerful caring for staff, partners and customers can be. You'll be surprised at the benefits! It really is true: give just a little, and you'll get such a lot.
So, what have you got to lose? See our prices now or get your free online quote today. If you prefer, have a chat with one of our team members about how we can help you. You can also check out our blog for regular health tips and information, or try our free online stress test to see if you need a massage yourself!
We're also available in: Ellon, Inverurie, Aberdeen, Portlethen, Westhill, Stonehaven, Montrose, Cupar, Leven an.