Corporate Massage in Normanton
Motivate your Workforce with Office Massage: Therapists in Normanton
Boost employee morale with workplace massage that can relax and rejuvenate your staff. Alternatively, you can offer office massage as part of an employee retention program to keep your team motivated, healthy and happy! Book therapists for office massage in Normanton today or find out more about the treatments available on our office massage page.
Engage Your Customers with Corporate Massage
When it comes to exhibitions and marketing promotions, it's important to stand out so that you make a lasting impression on potential customers. Massage helps engage people of all ages, and treatments are an exciting and unusual activity that never ceases to draw on people's curiosity. Companies all over the UK use Sense to enhance their corporate events and promotions, using massage to open doors in ways many never thought possible.
Sense Massage also provide a number of other services including classes such as mindfulness and yoga, which are perfect for company wellness days and corporate wellbeing events. These are also perfect for other health oriented events, such as marketing promotions and charity fundraisers and can be paired with some of our other fun wellness day suggestions here.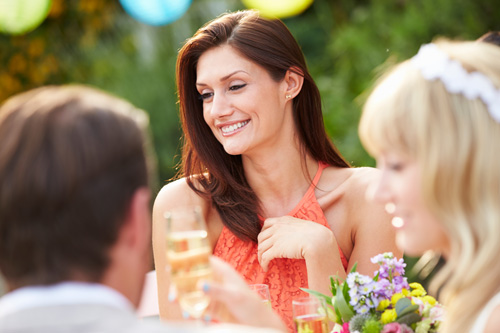 In addition to providing on-site massage for corporate events, we also do massage for home and private events, including everything from evening parties to bigger occasions. We can visit your home for a pamper night in with the girls, making us a perfect addition for Hen Dos and big birthday parties. Alternatively, add massage to the biggest event in your life - your wedding! We regularly provide massage at weddings as it's a wonderful activity for guests to enjoy throughout the day, in between the photos, food and dancing.
Looking After Your Staff Makes Sense
Whilst it may not be your first reason for opting for on-site massage, at Sense Massage Therapy, we know that looking after your staff pays. We've seen it. Reduced sick days; reduced absenteeism due to lack of motivation, stress or a multitude of other reasons; and most importantly, reduced staff resignations; are all common benefits of a regular staff care program - and massage offers this as well as numerous other health benefits. Motivating your staff and taking care of them can really pay off long term - and not just in the bank! The respect, loyalty and commitment you will earn from staff members is worth more than you can ever imagine.
So, what have you got to lose? See our prices now or get your free online quote today. If you prefer, have a chat with one of our team members about how we can help you. You can also check out our blog for regular health tips and information, or try our free online stress test to see if you need a massage yourself!
We're also available in: Wakefield, Featherstone, Castleford, Rothwell, East Ardsley, Horbury, Ossett, East Hardwick, Pontefract and Knottingley.