On-Site Chair Massage in Horbury
On-site Massage for Offices in Horbury: Treat Your Staff To Something New!
Looking for a cool way to treat your staff? An on-site chair massage gives immediate results! We already work with a number of companies in and around Horbury providing on-site chair massage, offering a number of other therapies including Indian head massage and hand and foot reflexology, and with a great number of Sense Massage Therapists based near Horbury we can have someone ready to treat your staff at a moment's notice!
Corporate Massage: Making Your Next Business Event Special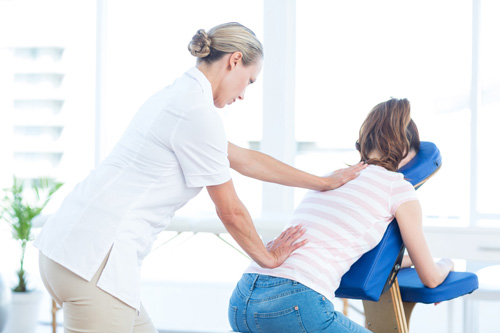 Spark interest and intrigue at your next corporate event by treating guests to an on-site massage treatment. Whether you are looking to nurture business relationships with clients, company partners or staff, or to find new ways to engage and start that initial conversation with potential clients, Sense Massage never fails to leave guests happy! Utilise us for your next marketing promotion or in-house event, and be sure to make your event one that they won't forget!
Offering Bespoke Wellness Day Packages, Unlike Anyone Else in Our Industry
Instead of your regular team-building events for your staff, why not offer them something a little different? Sense Massage Therapy provide bespoke Wellness Day packages, that can include a range of massage treatments, as well as health-oriented classes such as mindfulness and yoga. We create each Wellness Package with your budget and needs in mind, so you and your staff can have the perfect day at the perfect price.
On-Site Massage: Helping Create Memories at Horbury Community Events
From raising money at local fundraisers, fetes and festivals, to offering sports massages at the end of bike rides or big runs, we really have done it all. If you're organising an event and want to make it one guests never forget, on-site massage can really make the day that much more special. While we do offer some other wonderful wellness activities such as yoga and mindfulness, which are also a great addition to these sorts of events, massage is always a favourite by miles!
If You Don't Love Us, Get Your Money Back
Sense Massage Therapy have been providing chair massage and other massage treatments throughout the UK since 2000, and it's our outstanding service that means that we will continue to be trusted again and again. We're so confident that you'll love our therapists and our service, we even offer a 100% Money-Back Guarantee - which we're proud to say no one has ever wanted to redeem!
So, if you're interested, view our prices or speak to our team or get a free no-obligation quote from our website today - what have you got to lose? We're here to help you, we don't hard sell because we love what we do, and we hope you will too!
We're also available in: Ossett, Wakefield, East Ardsley, Dewsbury, Normanton, Royston, Cudworth, Featherstone, Denby Dale and Mirfield.