Reward Your Team: Corporate Massage Services in Hove
Join Companies in and Around Hove Already Utilising Office Massage
Call our Brighton team on 01273 752 538 for more information.
As stress management becomes a top priority for businesses in a bid to reduce staff illness and sickness days taken, when it comes to their staff, many businesses in Hove are already opting for office massage as a way to care for, motivate and revitalise staff. On-site massage, also known as acupressure massage, revolves around relieving tension in the body and revitalising individuals both physically and mentally. So, that's why so many companies in and around Hove are investing in office massage to help manage and prevent common issues caused by the workplace, such as aches and pains, stress and poor posture.
Elevate Corporate Events with Soothing On-site Massage Services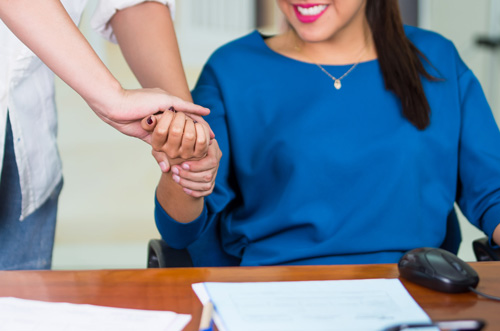 Utilise the power of on-site massage to elevate your corporate events, creating a soothing and inviting atmosphere that encourages engagement and interaction. Impress your guests with the thoughtful addition of massage services and demonstrate your company's commitment to their wellbeing and satisfaction.
Combining On-Site Massage and Wellness Activities for Unique Events
Combine on-site massage with other wellness activities like yoga and mindfulness classes to create a unique and engaging experience for corporate events, health fairs, and more. Our Wellness Package offers a flexible and customisable solution, allowing you to create the perfect event for your needs.
Wedding Day Bliss: Soothing Massages for Your Guests
Entertain and pamper your wedding guests with soothing foot reflexology, hand massages, and relaxing shoulder rubs. Offering a diverse range of massage options, you can ensure there's something for everyone on your special day.
Sense Makes Massage Simple: No Stress, No Fuss
Sense Massage Therapy is one of the most long-standing and therefore experienced massage company in the UK, and it's our expert knowledge of the industry that mean you can totally relax with us at the helm. With many experienced therapists based in Brighton and Hove, we're sure to have the ideal treatment for your office, party or event, and once you've picked your perfect package we'll get it sorted. Simple.
Prioritise staff wellness with our on-site massage solutions. Call 01273 752 538 to discuss your needs or get a free, instant quote online. Experience the difference we can make!
We're also available in: Hangleton, Portslade-By-Sea, Brighton, Southwick, Shoreham-By-Sea, Stanmer, Ovingdean, Saltdean, Hurstpierpoint and Henfield.