Unwind and Recharge: Office Massage Treatments in Newry
Workplace Massage Solutions for Businesses in Newry
Call our Belfast team on 028 4348 2143 for more information.
Progressive companies in and around Newry are embracing office massage as a way to motivate, incentivise, revitalise, and retain hardworking employees – and your company could be next! Our massage therapists, located in and around Newry, offer various treatment options, such as hand and foot reflexology, Indian head massage, on-site chair massage, and more, ensuring there's a suitable choice for everyone.
Corporate Massage: The Perfect Way To Make Your Business Stand Out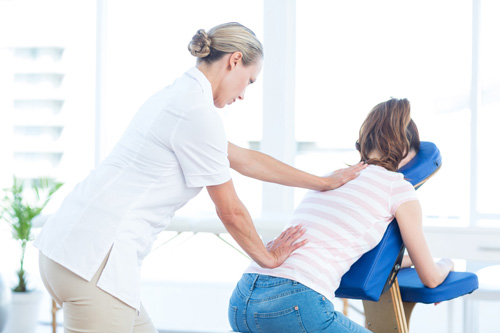 On-site massage is a great addition to many corporate events, from exhibitions and public marketing campaigns, to corporate days such as team building events or corporate wellness days. Massage can not only help your company stand out, but can offer a friendly and inviting way to begin that initial engagement with new potential customers, as well as leaving them with a lasting impression of your business.
Yoga and Mindfulness for Staff Wellness
At Sense Massage, we offer more than just on-site massages; our talented instructors are also available for a wide range of classes, including yoga and mindfulness. These relaxing and engaging activities are perfect for staff wellness days or special events, promoting a sense of unity and relaxation among participants.
On-Site Massage: Bringing Relaxation to Diverse Events and Venues
Diversify your event offerings with our on-site massage services. From fundraisers and festivals to golf days and film sets, our therapists bring relaxation and rejuvenation to all types of events, creating memorable experiences for attendees.
End-to-end Massage Events Service
Sense is proud to provide therapists all across the UK and Ireland, to events both big and small, and regularly work in and around Newry and across Newry and Mourne. Our vast workforce are also trained in a variety of treatments, so you can always have the perfect therapy for your event. With our professional organisers to guide you through it from start to finish, you'll see why each of our customers come back again and again.
Create a thriving work environment with our office massage solutions. Speak to our experts on 028 4348 2143 or request a free, instant quote. Invest in your team's well-being!
We're also available in: Banbridge, Armagh, Newcastle, Craigavon, Lisburn, Downpatrick, Dungannon, Belfast, Castlereagh and Cookstown.