Your Solution to Workplace Stress: Massage Services in Lichfield
Enhance Employee Well-being with Office Massage in Lichfield
Call our Stoke team on 01782 894 305 for more information.
Office massage has become an increasingly popular solution for alleviating workplace stress, providing both tension relief and an attractive incentive for employees. Massage demonstrates your care for your staff's well-being, and our therapists located close to Lichfield share the same sentiment! During each session, our Sense therapists are dedicated to tailoring massages to every individual, ensuring each of your staff members gets the most out of their treatment. Our therapists based near Lichfield work tirelessly to give your staff and other local companies' employees the best possible experience, reflecting the care you demonstrate by treating them to an office massage.
Corporate Massage: A Range of Treatments for Your Next Corporate Event
Why not liven up your next corporate event and treat your employees or partners to an indulgent massage treatment? We offer a range of on-site treatments including chair massage, reflexology and Indian head massage, all of which are flexible treatments which can be provided in any setting. Sense provide corporate massage for big or small events, indoors and outdoors, and for a wide range of industries - so why not give us a try? Corporate massage is cheaper than you think, and makes a great impression that your guests will never forget.
Enhancing Staff Satisfaction with Mindfulness and Yoga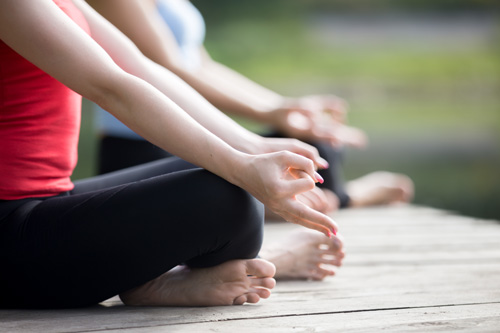 Incorporate a variety of wellness services, such as mindfulness sessions and yoga classes, into your corporate wellbeing strategy to enhance overall staff satisfaction. These activities are ideal for promoting relaxation, stress reduction, and team bonding, making them perfect additions to any corporate wellness programme or event.
On-Site Massage: Helping Create Memories at Lichfield Community Events
From raising money at local fundraisers, fetes and festivals, to offering sports massages at the end of bike rides or big runs, we really have done it all. If you're organising an event and want to make it one guests never forget, on-site massage can really make the day that much more special. While we do offer some other wonderful wellness activities such as yoga and mindfulness, which are also a great addition to these sorts of events, massage is always a favourite by miles!
Looking After Your Staff Makes Sense
Whilst it may not be your first reason for opting for on-site massage, at Sense Massage Therapy, we know that looking after your staff pays. We've seen it. Reduced sick days; reduced absenteeism due to lack of motivation, stress or a multitude of other reasons; and most importantly, reduced staff resignations; are all common benefits of a regular staff care program - and massage offers this as well as numerous other health benefits. Motivating your staff and taking care of them can really pay off long term - and not just in the bank! The respect, loyalty and commitment you will earn from staff members is worth more than you can ever imagine.
Elevate your employees' health and happiness with on-site massage. Contact us at 01782 894 305 or request a free, no-obligation quote. Transform your workplace today!
We're also available in: Burntwood, Brownhills, Aldridge, Rugeley, Great Wyrley, Tamworth, Cannock, Belgrave, Bloxwich and Sutton Coldfield.