Office Massage in Green Park
On-site Massage for Offices in Green Park: Treat Your Staff To Something New!
Looking for a cool way to treat your staff? An on-site chair massage gives immediate results! We already work with a number of companies in and around Green Park providing on-site chair massage, offering a number of other therapies including Indian head massage and hand and foot reflexology, and with a great number of Sense Massage Therapists based near Green Park we can have someone ready to treat your staff at a moment's notice!
Engage Customers at Your Next Event with Corporate Massage
On-site massage is also a great way to create a lasting impression with customers, as well as helping your business or marketing promotions stand out. Engage the people of Green Park in a way they've never experienced before by having a Sense therapist providing corporate massage at your event, or you can also utilise our corporate massage options for internal corporate events such as staff wellbeing days.
Taking Care of Your Staff Makes Sense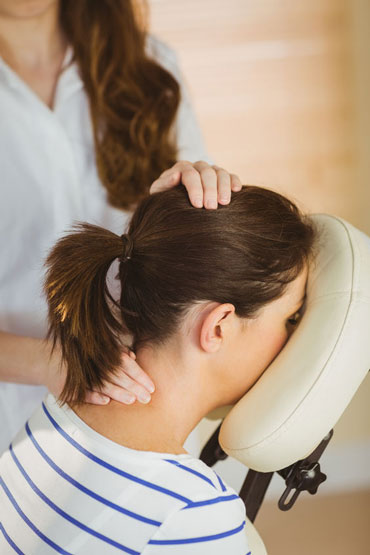 Those with their finger on the pulse of modern business know that investing in your staff is one of the best ways to make your business the best! Wellness days are a great way to give back to staff and show that you care, helping you retain their loyalty, create an awesome atmosphere within your workforce, motivate your team and even improve their mental and physical wellbeing. Taking care of your staff has never made more Sense!
Add a De-Stress Station to Any Event or Venue, from Golf Days to Fundraisers
On-site massage is a great addition to pretty much any event, and our therapists have worked at all sorts! Setting up de-stress stations at fundraisers, on golf days, at festivals, on film sets and at many other types of events and venues, we help to bring something different to the day and keep faces smiling and shoulders relaxed.
Looking After Your Staff Makes Sense
Whilst it may not be your first reason for opting for on-site massage, at Sense Massage Therapy, we know that looking after your staff pays. We've seen it. Reduced sick days; reduced absenteeism due to lack of motivation, stress or a multitude of other reasons; and most importantly, reduced staff resignations; are all common benefits of a regular staff care program - and massage offers this as well as numerous other health benefits. Motivating your staff and taking care of them can really pay off long term - and not just in the bank! The respect, loyalty and commitment you will earn from staff members is worth more than you can ever imagine.
So call us today and talk with a member of our team, or get a free instant quote here. We can't wait to work with you!
We're also available in: Westminster, Hyde Park Corner, Sloane Square, Victoria, Piccadilly Circus, Mayfair, Warren Street, Oxford Circus, Park Lane and Soho.