On-Site Chair Massage in Corsham
Office massage and on-site therapies for your staff in Corsham
Office massage is becoming one of the most sought-after solutions to workplace stress, since it not only relieves tension but offers a great incentive for staff too. Massage makes employees feel valued and cared for - and our therapists located near Corsham care too! During the sessions, our Sense therapists are always happy to tailor massages to the individual, so that each and every one of your staff members gets the most out of their treatment. Our therapists based near Corsham strive to give your staff and those within other local companies the best experience possible, so that our efforts also reflect the care you show for your staff by treating them to an office massage.
Corporate Massage: A Range of Treatments for Your Next Corporate Event
Why not liven up your next corporate event and treat your employees or partners to an indulgent massage treatment? We offer a range of on-site treatments including chair massage, reflexology and Indian head massage, all of which are flexible treatments which can be provided in any setting. Sense provide corporate massage for big or small events, indoors and outdoors, and for a wide range of industries - so why not give us a try? Corporate massage is cheaper than you think, and makes a great impression that your guests will never forget.
Massage and Wellbeing Classes for Wellness Events
You can also include on-site massage as part of corporate wellness days or a variety of wellness events, such as health exhibitions and so much more. As part of our Wellness Package we offer classes such as mindfulness and yoga, or you can book these classes on their own if you already have some other activities lined up - but massage is always a winner!
Save the Date for Sense: On-Site Massage for Weddings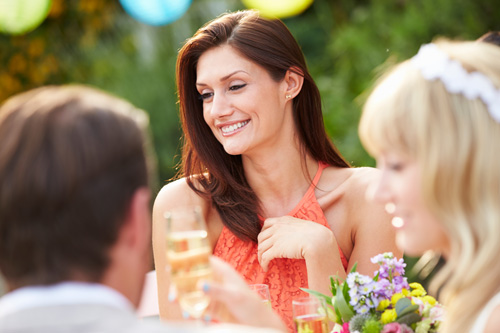 Having some fun activities for your guests to enjoy on your wedding day can really add to your special day and massage is one that always goes down a treat. From a relaxing shoulder and back rub to a pampering hand massage, on-site massage is a great way to indulge your friends and family on this special occasion, and keep them limber in between all the food, photos and festivities!
Get So Much More Than You Give With Massage
At Sense Massage Therapy, we believe that if you care for others, they will show that same care and devotion to you - and this is even more true for businesses and brands in the modern age. Whilst many businesses may overwork their staff or praise those that burden excessive stress, the long term effects of these behaviours can leave staff feeling neglected, overwhelmed and burnt-out. That's why we want to show the world that by looking after those who work for you, work with you, buy from you, you can get back so much more than you give: loyalty, trust, commitment. These earned gifts not only build the best businesses, but they help us build a better place to live in, where we focus on the people, and helping each individual live a happy, healthy life. We know that massage is only one part in this process, but it certainly is a caring one, as it relieves both mental and physical stress - and we would love to help you today.
Interested? Check out our prices or get a free instant quote sent straight to your inbox now, or if you prefer, speak to one of our team members to see which of our services might be right for you. For more health related information, you can also check out our blog where we regularly post useful tips on stress management, wellbeing and health related topics.
We're also available in: Bradford-on-Avon, Melksham, Bath, Trowbridge, Chippenham, Bathampton, Calne, Westbury, Devizes and Fishponds.