Workplace Massage in Bonnyrigg
On-site Massage in Bonnyrigg
Looking for on-site massage in Bonnyrigg? You've come to the right place. We have a large number of therapists available in your area ready to provide on-site therapy for whatever occasion you require. From office massage to corporate events, indulge your staff, guests, customers or partners in a relaxing escape from the modern world with a rejuvenating and revitalising treatment. Choose from a number of therapies including reflexology of the hands or feet, Indian head massage or an all-encompassing back, neck and shoulder chair massage.
Corporate Massage Makes for a Memorable Event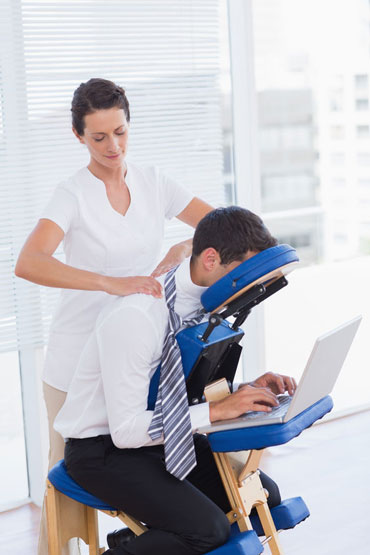 Corporate massage is flexible, fun and memorable for everyone involved, and when it comes to creating an exciting corporate event for partners and staff, or even potential customers, countless companies have found massage to be the most talked-about part of the day. On-site massage is also great for marketing promotions such as exhibitions or campaign stalls; big names such as Volvo have used our services for such events and seen great results!
Sense Massage also provide a number of other services including classes such as mindfulness and yoga, which are ideal for corporate wellness days. As well as being a great incentive for staff and a motivator for throughout the year, Wellness Days also offer a chance for teams to come together and bond, taking the time to really reground themselves and de-stress together.
On-Site Massage for Weddings and Hen Nights in Bonnyrigg
Make your wedding or hen night the event of the year with massages to indulge your guests and make the fondest of memories! Make us part of your girly evening combined with party food, prosecco, and other pampering activities, for a night that you and your ladies will never forget. Alternatively, let us take care of your wedding guests in between the nibbles, and treat them to a soothing shoulder rub or holistic hand massage, ready and loosened up to dance the night away!
Looking After Your Staff Makes Sense
Whilst it may not be your first reason for opting for on-site massage, at Sense Massage Therapy, we know that looking after your staff pays. We've seen it. Reduced sick days; reduced absenteeism due to lack of motivation, stress or a multitude of other reasons; and most importantly, reduced staff resignations; are all common benefits of a regular staff care program - and massage offers this as well as numerous other health benefits. Motivating your staff and taking care of them can really pay off long term - and not just in the bank! The respect, loyalty and commitment you will earn from staff members is worth more than you can ever imagine.
So, why wait? Find out today whether Sense could provide the perfect solution for your next event, and get your free online quote now, or find out more about the services we provide here.
We're also available in: Mayfield, Gilmerton, Liberton, Morningside, Fairmilehead, Newcraighall, Musselburgh, Penicuik, Edinburgh and Leith.