Combat Workplace Stress: Desk Massage in Wells
Office Massage in Wells and Managing Workplace Stress
Call our Taunton team on 01823 761 305 for more information.
Office massage is great for managing stress in the workplace, offering your staff in Wells time to relax and ease away muscular as well as emotional tension. Offering on site massage as a yearly, quarterly or monthly bonus for staff can also help manage stress levels long term by raising morale and keeping the team motivated, giving them a regular treat to look forward to. We've found regular workplace massage has been particularly helpful in highly-pressurised industries, and we've already helped many companies based in and around Wells in these stressful niches such as sales, teaching, finance and many more.
Boost Corporate Events with Massage Offerings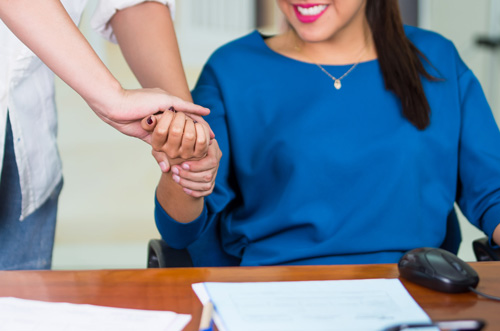 Incorporate on-site massage into various corporate events, from exhibitions and public marketing campaigns to team building events or corporate wellness days. Massage not only helps your company stand out but also fosters a warm and inviting atmosphere, creating a positive initial engagement with potential customers and leaving a lasting impression of your brand.
Investing in Employee Wellbeing for Business Success
Embrace the modern approach to business success by investing in your employees' wellbeing with Wellness Days. These events can improve staff morale, productivity, and overall health by incorporating on-site massages, mindfulness classes, and yoga sessions, all contributing to a thriving work environment.
In addition to providing on-site massage for corporate events, we also do massage for home and private events, including everything from evening parties to bigger occasions. We can visit your home for a pamper night in with the girls, making us a perfect addition for Hen Dos and big birthday parties. Alternatively, add massage to the biggest event in your life - your wedding! We regularly provide massage at weddings as it's a wonderful activity for guests to enjoy throughout the day, in between the photos, food and dancing.
Boost Your Business with On-Site Massage and Staff Care Programs
Investing in staff wellbeing through on-site massage services and other wellness initiatives can lead to numerous benefits for businesses. Reduced sick days, absenteeism, and staff turnover are just a few of the advantages of a regular staff care program. Experience the long-term positive effects of staff motivation and care by incorporating massage into your company's wellness strategy.
Foster a positive workplace culture with our on-site massage offerings. Call us at 01823 761 305 or request a free, no-obligation quote online. Start your wellness journey today!
We're also available in: Glastonbury, Shepton Mallet, Street, Cameley, Bishop Sutton, Midsomer Norton, Radstock, Somerton, Chelwood and Camerton.