Discover the Benefits of Office Massage in Southampton
Invest in Employee Wellness: On-site Massage Services in Southampton
Call our Bournemouth team on 01202 942 196 for more information.
Invest in your team's well-being with on-site massage services in Southampton. Our experienced therapists provide tailored treatments to suit each staff member's needs, promoting relaxation, stress relief, and a more focused, energised workforce.
Attract Attention at Trade Shows with On-site Massage Offerings
Create a buzz at your next trade show or exhibition by offering on-site massage to visitors. Draw people to your stand with the promise of relaxation and stress relief, giving you the opportunity to engage with potential customers and showcase your products or services.
Boosting Corporate Wellness with Engaging Activities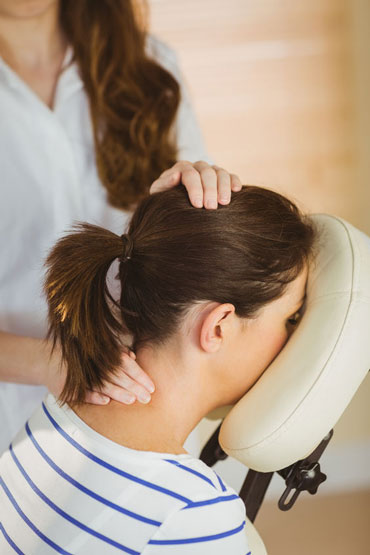 Boost your company's wellness initiatives with engaging activities like yoga and mindfulness classes, suitable for corporate wellbeing events or health-focused marketing promotions. These activities can help employees and guests unwind, while also providing a unique experience that sets your event apart from the rest.
Save the Date for Sense: On-Site Massage for Weddings
Having some fun activities for your guests to enjoy on your wedding day can really add to your special day and massage is one that always goes down a treat. From a relaxing shoulder and back rub to a pampering hand massage, on-site massage is a great way to indulge your friends and family on this special occasion, and keep them limber in between all the food, photos and festivities!
Expert On-Site Massage Therapists in Southampton for All Event Sizes
As the go-to on-site massage provider since 2000, our extensive network of qualified therapists is available throughout the UK, including Southampton. We've built our reputation on delivering top-notch service for events of all sizes, and our commitment to customer satisfaction ensures that you can count on us to make your event a memorable one.
Discover the power of office massage for your team. Get in touch with our experts at 01202 942 196 or request a free online quote. Boost productivity and morale with our services!
We're also available in: Hythe, Eastleigh, Totton, Hedge End, Swanwick, Romsey, Blackfield, Titchfield, Swanmore and Fareham.