On-Site Massage in Soham
Office Massage in Soham: Managing stress in your workforce
Office massage is not only great for managing stress within your workforce, but it is excellent for staff retention, as it's a bonus that makes staff feel valued. Depending on your budget you can even get staff to contribute to their massage, offering a subsidised massage which is still a wonderful treat for your employees.
Corporate Massage Makes for a Memorable Event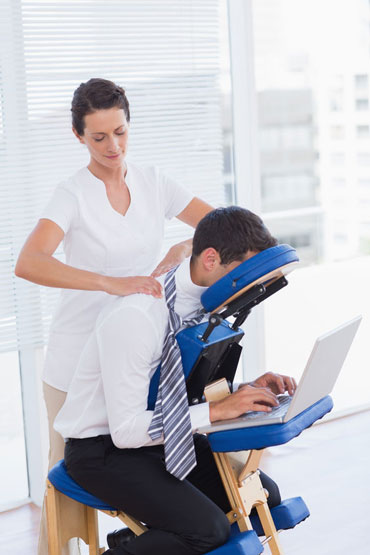 Corporate massage is flexible, fun and memorable for everyone involved, and when it comes to creating an exciting corporate event for partners and staff, or even potential customers, countless companies have found massage to be the most talked-about part of the day. On-site massage is also great for marketing promotions such as exhibitions or campaign stalls; big names such as Volvo have used our services for such events and seen great results!
Taking Care of Your Staff Makes Sense
Those with their finger on the pulse of modern business know that investing in your staff is one of the best ways to make your business the best! Wellness days are a great way to give back to staff and show that you care, helping you retain their loyalty, create an awesome atmosphere within your workforce, motivate your team and even improve their mental and physical wellbeing. Taking care of your staff has never made more Sense!
Save the Date for Sense: On-Site Massage for Weddings
Having some fun activities for your guests to enjoy on your wedding day can really add to your special day and massage is one that always goes down a treat. From a relaxing shoulder and back rub to a pampering hand massage, on-site massage is a great way to indulge your friends and family on this special occasion, and keep them limber in between all the food, photos and festivities!
It Makes Sense To Care
At Sense, we're proud of our friendly but professional approach, taking care to always ensure we deliver a reliable service. With our attentive customer service team on hand whenever you need us, you'll feel looked after from start to finish, and can advise you on the perfect massage solution for your event - big or small!
Interested? Check out our prices or get a free instant quote sent straight to your inbox now, or if you prefer, speak to one of our team members to see which of our services might be right for you. For more health related information, you can also check out our blog where we regularly post useful tips on stress management, wellbeing and health related topics.
We're also available in: Ely, Mildenhall, Brandon, Newmarket, Northwold, Chatteris, Cambridge, Downham Market, March and Thetford.