On-Site Chair Massage in Highbury and Islington
Office Massage in Highbury and Islington and Managing Workplace Stress
Office massage is great for managing stress in the workplace, offering your staff in Highbury and Islington time to relax and ease away muscular as well as emotional tension. Offering on site massage as a yearly, quarterly or monthly bonus for staff can also help manage stress levels long term by raising morale and keeping the team motivated, giving them a regular treat to look forward to. We've found regular workplace massage has been particularly helpful in highly-pressurised industries, and we've already helped many companies based in and around Highbury and Islington in these stressful niches such as sales, teaching, finance and many more.
Exhibitions and Marketing Teams in and around Highbury and Islington Love Our Corporate Massage Service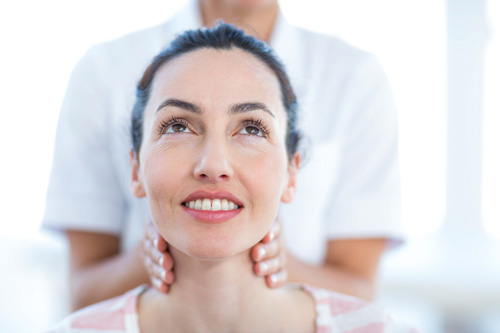 Help your company stand out from the crowd in a sea of exhibition stands or create a lasting impression on potential customers as a memorable part of your marketing campaign with an on-site therapist. You can even establish and further nurture relationships with partners or employees at corporate wellness events with on-site massage, and Sense have already worked with many companies all over the UK and Ireland, including Greater London, improving their brand image and helping engage both staff and customers through the wonders of massage.
Sense Massage also provide a number of other services including classes such as mindfulness and yoga, which are ideal for corporate wellness days. As well as being a great incentive for staff and a motivator for throughout the year, Wellness Days also offer a chance for teams to come together and bond, taking the time to really reground themselves and de-stress together.
In addition to on-site and events massage, Sense Massage Therapy also works with those in the media industry, providing massage treatments to those on set, from the actors, their crew and the editing team to the backstage crew at music performances and the performers themselves. Massage keeps everybody motivated, happy and relaxed within what can be a very hectic and stressful atmosphere, and helps make everybody more driven to get things done.
It Makes Sense To Care
At Sense, we're proud of our friendly but professional approach, taking care to always ensure we deliver a reliable service. With our attentive customer service team on hand whenever you need us, you'll feel looked after from start to finish, and can advise you on the perfect massage solution for your event - big or small!
Interested? Check out our prices or get a free instant quote sent straight to your inbox now, or if you prefer, speak to one of our team members to see which of our services might be right for you. For more health related information, you can also check out our blog where we regularly post useful tips on stress management, wellbeing and health related topics.
We're also available in: Highbury, Seven Sisters Road, Finsbury Park, Highgate Wood, Highgate, Smithfield, Angel, Old Street, Ladbroke Grove and Kensal Town.