On-Site Chair Massage in Dalgety Bay
Join Companies in and Around Dalgety Bay Already Utilising Office Massage
As stress management becomes a top priority for businesses in a bid to reduce staff illness and sickness days taken, when it comes to their staff, many businesses in Dalgety Bay are already opting for office massage as a way to care for, motivate and revitalise staff. On-site massage, also known as acupressure massage, revolves around relieving tension in the body and revitalising individuals both physically and mentally. So, that's why so many companies in and around Dalgety Bay are investing in office massage to help manage and prevent common issues caused by the workplace, such as aches and pains, stress and poor posture.
Corporate Massage: Making Your Next Business Event Special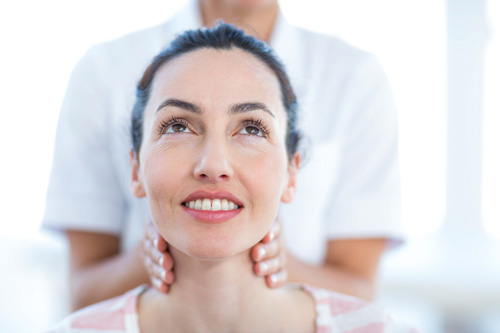 Spark interest and intrigue at your next corporate event by treating guests to an on-site massage treatment. Whether you are looking to nurture business relationships with clients, company partners or staff, or to find new ways to engage and start that initial conversation with potential clients, Sense Massage never fails to leave guests happy! Utilise us for your next marketing promotion or in-house event, and be sure to make your event one that they won't forget!
Wellness Days are another great way to treat your staff, hosting an entire day of treats focussed around your staff's health and wellbeing. Alongside our on-site massage treatments, Sense also offer instructor-lead classes tailored for these sorts of events, such as mindfulness and yoga, which you can combine with some of our other wellness day ideas that we posted on our blog here.
As well as providing on-site massage for offices and large corporate events, Sense Massage also caters for smaller occasions such as community events, offering everything from sports massage at the end of local sportives to relaxation stalls at festivals and fetes. Whatever your event, big or small, we can guarantee that massage will make it so much more memorable for all involved - and will certainly go down a treat every time!
Sense Makes Massage Simple: No Stress, No Fuss
Sense Massage Therapy is one of the most long-standing and therefore experienced massage company in the UK, and it's our expert knowledge of the industry that mean you can totally relax with us at the helm. With hundreds of therapists based in Fife, we're sure to have the ideal treatment for your office, party or event, and once you've picked your perfect package we'll get it sorted. Simple.
So, if you're interested in booking on-site massage, or simply want to find out more, get in touch with our team today, or get your free online quote here. If it's prices you need, you can see our prices here. Also, if you'd like to find out more about managing stress in and out of the workplace, wellbeing and improving your health, check out our blog for the latest from our massage and health experts.
We're also available in: Rosyth, Cowdenbeath, Dunfermline, Cramond, Linlithgow, Broxburn, Newbridge, Leith, Edinburgh and Kinross.