Corporate Massage in Coventry
Nurture Your Staff with Office Massage
Taking care of your staff is key to staff retention, and workplace massage is an extremely cost-effective and wonderful way to nurture long-lasting relationships with your employees. Our Sense therapists based in and around Coventry are qualified in a number of therapies including reflexology (hand and foot massage), Indian head massage and indulgent on-site chair massage.
Corporate Massage: The Perfect Way To Make Your Business Stand Out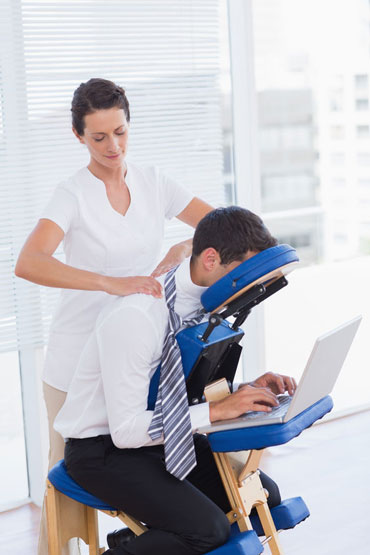 On-site massage is a great addition to many corporate events, from exhibitions and public marketing campaigns, to corporate days such as team building events or corporate wellness days. Massage can not only help your company stand out, but can offer a friendly and inviting way to begin that initial engagement with new potential customers, as well as leaving them with a lasting impression of your business.
Massage and Wellbeing Classes for Wellness Events
You can also include on-site massage as part of corporate wellness days or a variety of wellness events, such as health exhibitions and so much more. As part of our Wellness Package we offer classes such as mindfulness and yoga, or you can book these classes on their own if you already have some other activities lined up - but massage is always a winner!
Lights, Camera, Massage! On-Set Massage for Film, TV and Other Media
All filming sets can be hectic at times, and we've worked with all kinds of media groups in and around Coventry, helping keep the team and cast motivated and the atmosphere positive - and we can do the same for you! In addition to media sets and stages, our on-site massage therapists also work on a number of other more unusual settings, including local events, festivals, golf days and even weddings, bringing something different to each but always making sure everyone has a wonderful time.
Sense Makes Massage Simple: No Stress, No Fuss
Sense Massage Therapy is one of the most long-standing and therefore experienced massage company in the UK, and it's our expert knowledge of the industry that mean you can totally relax with us at the helm. With hundreds of therapists based in West Midlands, we're sure to have the ideal treatment for your office, party or event, and once you've picked your perfect package we'll get it sorted. Simple.
So call us today and talk with a member of our team, or get a free instant quote here. We can't wait to work with you!
We're also available in: Willenhall, Kenilworth, Bedworth, Royal Leamington Spa, Rugby, Nuneaton, Warwick, Solihull, Atherstone and Polesworth.