Boost Employee Retention: Desk Massage Solutions in Salisbury
Office Massage in Salisbury: Boost Employee Satisfaction and Loyalty
Call our Swindon team on 01793 934 557 for more information.
Prioritising employee wellness is crucial for a productive and thriving workplace. Office massage services in Salisbury offer a refreshing solution to alleviate stress and promote a healthy work environment, contributing to the satisfaction and loyalty of your staff.
Corporate Massage: The Perfect Way To Make Your Business Stand Out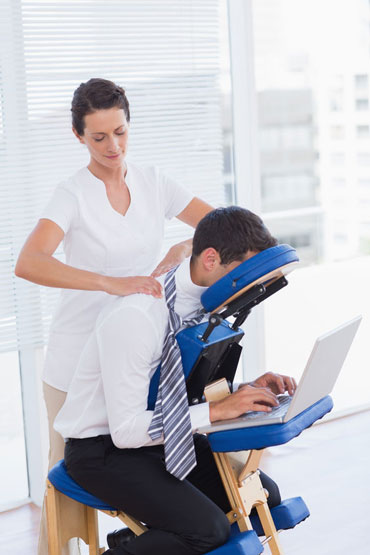 On-site massage is a great addition to many corporate events, from exhibitions and public marketing campaigns, to corporate days such as team building events or corporate wellness days. Massage can not only help your company stand out, but can offer a friendly and inviting way to begin that initial engagement with new potential customers, as well as leaving them with a lasting impression of your business.
Versatile Wellness Packages for Varied Events
Broaden the scope of your wellness events with on-site massage, mindfulness, and yoga classes from Sense Massage. Our versatile Wellness Package can be adapted to health exhibitions, corporate wellness days, and more, ensuring a memorable and beneficial experience for all attendees.
Diverse Events and Memorable Massage Experiences
On-site massage services cater to diverse events, from corporate wellness days to special occasions such as golf days, weddings, and hen parties. Our massage therapists also attend fundraisers, festivals, fetes, and community events, ensuring every event becomes a cherished memory for attendees.
The Nation's Experts in On-Site Massage
Sense Massage Therapy is one of the oldest and most experienced on-site massage supplier in the UK, and it's this that sets us apart from the rest. Unlike other massage companies, you'll receive a dedicated account manager who will guide you through each stage of your on-site massage booking, and will be on call throughout your session to ensure everything goes smoothly. With Sense, you can can trust that you'll get a reliable, professional service every time.
Improve staff health and morale with our office massage services. Reach out to our specialists on 01793 934 557 or get a free, personalised quote. Experience the Sense advantage!
We're also available in: Wilton, Wick, Amesbury, Bulford Camp, Fordingbridge, Stuckton, Stockbridge, Stoney Cross, Verwood and Romsey.