On-Site Massage in Over Norton
Join Companies in and Around Over Norton Already Utilising Office Massage
As stress management becomes a top priority for businesses in a bid to reduce staff illness and sickness days taken, when it comes to their staff, many businesses in Over Norton are already opting for office massage as a way to care for, motivate and revitalise staff. On-site massage, also known as acupressure massage, revolves around relieving tension in the body and revitalising individuals both physically and mentally. So, that's why so many companies in and around Over Norton are investing in office massage to help manage and prevent common issues caused by the workplace, such as aches and pains, stress and poor posture.
Exhibitions and Marketing Teams in and around Over Norton Love Our Corporate Massage Service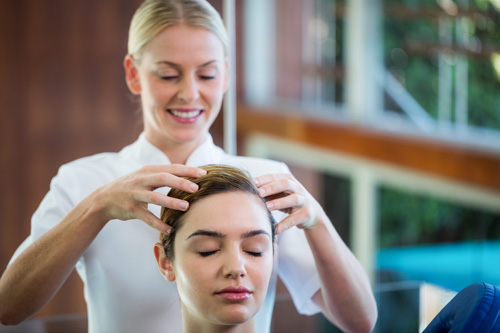 Help your company stand out from the crowd in a sea of exhibition stands or create a lasting impression on potential customers as a memorable part of your marketing campaign with an on-site therapist. You can even establish and further nurture relationships with partners or employees at corporate wellness events with on-site massage, and Sense have already worked with many companies all over the UK and Ireland, including Oxfordshire, improving their brand image and helping engage both staff and customers through the wonders of massage.
Wellness Days are another great way to treat your staff, hosting an entire day of treats focussed around your staff's health and wellbeing. Alongside our on-site massage treatments, Sense also offer instructor-lead classes tailored for these sorts of events, such as mindfulness and yoga, which you can combine with some of our other wellness day ideas that we posted on our blog here.
On-Site Massage for Weddings and Hen Nights in Over Norton
Make your wedding or hen night the event of the year with massages to indulge your guests and make the fondest of memories! Make us part of your girly evening combined with party food, prosecco, and other pampering activities, for a night that you and your ladies will never forget. Alternatively, let us take care of your wedding guests in between the nibbles, and treat them to a soothing shoulder rub or holistic hand massage, ready and loosened up to dance the night away!
Sense Makes Massage Simple: No Stress, No Fuss
Sense Massage Therapy is one of the most long-standing and therefore experienced massage company in the UK, and it's our expert knowledge of the industry that mean you can totally relax with us at the helm. With hundreds of therapists based in Oxfordshire, we're sure to have the ideal treatment for your office, party or event, and once you've picked your perfect package we'll get it sorted. Simple.
Want to find out more about what we can do for you? Speak with one of our team members today, check out our prices or click here for a free online quote.
We're also available in: Ramsden, Over Worton, Witney, Poffley End, Carterton, Great Barrington, Banbury, Kidlington, Piddington and Bicester.