The Ultimate Corporate Wellness Solution: Massage in Newcastle upon Tyne
On-Site Chair Massage: Reducing Stress for Employees in Newcastle upon Tyne
Call our Newcastle upon Tyne team on 0191 629 0270 for more information.
Office massage is an excellent method for managing stress in the workplace, offering your Newcastle upon Tyne staff an opportunity to relax and ease away muscular and emotional tension. Providing on-site massage as an annual, quarterly, or monthly bonus can help manage stress levels long-term by boosting morale and keeping the team motivated, with a regular treat to anticipate. We have discovered that regular workplace massage is particularly beneficial in high-pressure industries, and we've assisted many companies based in and around Newcastle upon Tyne in these stressful sectors, such as sales, teaching, finance, and many more.
Exhibitions and Marketing Teams in and around Newcastle upon Tyne Love Our Corporate Massage Service
Help your company stand out from the crowd in a sea of exhibition stands or create a lasting impression on potential customers as a memorable part of your marketing campaign with an on-site therapist. You can even establish and further nurture relationships with partners or employees at corporate wellness events with on-site massage, and Sense have already worked with many companies all over the UK and Ireland, including Tyne and Wear, improving their brand image and helping engage both staff and customers through the wonders of massage.
Bespoke Wellness Day Packages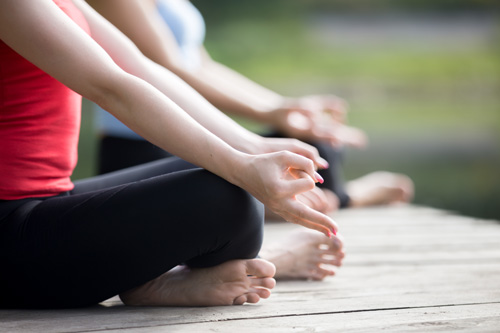 For a refreshing change of pace, why not explore Sense Massage Therapy's bespoke Wellness Day packages? These tailored events can include a variety of massage treatments and wellness classes, such as mindfulness and yoga, offering your employees a unique and rejuvenating experience.
Lights, Camera, Massage! On-Set Massage for Film, TV and Other Media
All filming sets can be hectic at times, and we've worked with all kinds of media groups in and around Newcastle upon Tyne, helping keep the team and cast motivated and the atmosphere positive - and we can do the same for you! In addition to media sets and stages, our on-site massage therapists also work on a number of other more unusual settings, including local events, festivals, golf days and even weddings, bringing something different to each but always making sure everyone has a wonderful time.
If You Don't Love Us, Get Your Money Back
Sense Massage Therapy have been providing chair massage and other massage treatments throughout the UK since 2000, and it's our outstanding service that means that we will continue to be trusted again and again. We're so confident that you'll love our therapists and our service, we even offer a 100% Money-Back Guarantee - which we're proud to say no one has ever wanted to redeem!
Experience the benefits of on-site massage today! Call 0191 629 0270 to speak with our team or request a free, instant quote online. Join the workplace wellness revolution!
We're also available in: Longbenton, Team Valley, Gateshead, Wallsend, Hebburn, Whickham, Blaydon, Jarrow, New York and Washington.