Your Path to Corporate Wellness: Massage in Chester
Workplace Massage Solutions for Businesses in Chester
Call our Manchester team on 0161 729 0600 for more information.
Progressive companies in and around Chester are embracing office massage as a way to motivate, incentivise, revitalise, and retain hardworking employees – and your company could be next! Our massage therapists, located in and around Chester, offer various treatment options, such as hand and foot reflexology, Indian head massage, on-site chair massage, and more, ensuring there's a suitable choice for everyone.
Corporate Massage: The Perfect Way To Make Your Business Stand Out
On-site massage is a great addition to many corporate events, from exhibitions and public marketing campaigns, to corporate days such as team building events or corporate wellness days. Massage can not only help your company stand out, but can offer a friendly and inviting way to begin that initial engagement with new potential customers, as well as leaving them with a lasting impression of your business.
Bespoke Wellness Packages for Unforgettable Events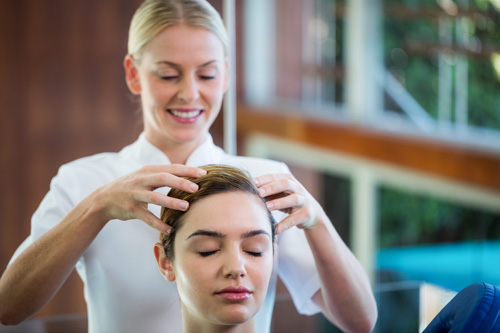 Create a memorable wellness event with our bespoke Wellness Packages, tailored to your specific needs and budget. From on-site massage to mindfulness and yoga classes, we provide a diverse range of activities and treatments to ensure your corporate wellness day or event is a resounding success.
The Ultimate Wedding Experience: Pampering Your Guests with Massage
Treat your loved ones to an exceptional wedding experience with our on-site massage services. From relaxing back rubs to indulgent hand massages, your guests will feel pampered and ready to celebrate your special day.
Diverse On-Site Massage Treatments Across Chester and Cheshire: Sense Massage Therapy
Sense Massage Therapy boasts a proven track record of providing outstanding on-site massage treatments across Chester and Cheshire. Our highly skilled team is committed to making your event a resounding success, offering a diverse range of therapies tailored to your unique requirements.
Ready to invest in your employees' wellness? Contact our team at 0161 729 0600 or obtain a free, no-obligation quote online. Explore our range of on-site massage treatments!
We're also available in: Ellesmere Port, Connah's Quay, Neston, Frodsham, Flint, Hale, Mold, Wrexham, Bebington and Runcorn.