Desk Massage in Braintree
Office Based Massage for Companies in Braintree
Forward thinking companies in and around Braintree are opting for office massage to help motivate, incentivise, revitalise and retain hardworking staff - and you could be too! Our massage therapists located in and around Braintree offer a range of treatment options, from hand and foot reflexology, Indian head massage, on-site chair massage and more, there's an option to suit everyone.
Engage Customers at Your Next Event with Corporate Massage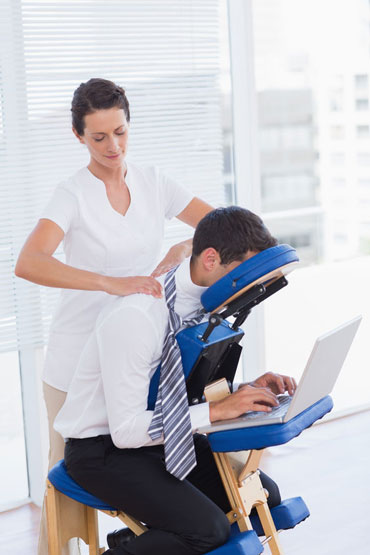 On-site massage is also a great way to create a lasting impression with customers, as well as helping your business or marketing promotions stand out. Engage the people of Braintree in a way they've never experienced before by having a Sense therapist providing corporate massage at your event, or you can also utilise our corporate massage options for internal corporate events such as staff wellbeing days.
Wellness Days for the Workplace
If your company provides staff fun days or team-building events, then why not consider holding a wellness day for your next event? Wellness Days are a great way to show your staff that you care about their wellbeing, and can give them chance to reground during busy season or as a treat at the end of one. From on-site massage to suit every taste, to classes such as mindfulness, meditation and yoga, allow your team to unwind and recharge, ready for the next working day!
Lights, Camera, Massage! On-Set Massage for Film, TV and Other Media
All filming sets can be hectic at times, and we've worked with all kinds of media groups in and around Braintree, helping keep the team and cast motivated and the atmosphere positive - and we can do the same for you! In addition to media sets and stages, our on-site massage therapists also work on a number of other more unusual settings, including local events, festivals, golf days and even weddings, bringing something different to each but always making sure everyone has a wonderful time.
The UK's Experts in On-Site Massage
Sense Massage Therapy have been organising on-site massage for events and offices throughout since 2000, and our therapists have been working in the industry even longer. With extensive experience and unrivalled professionalism, you can be sure that your event with us will go off without a hitch every time.
Interested in hiring us for your event or offices? Find out more about the treatments we offer on our services page, or speak to one of our team members who can also take you through the best options to suit your needs and budget.
We're also available in: Halstead, Haverhill, Witham, Sudbury, Saffron Walden, Chelmsford, Maldon, Sawbridgeworth, Harlow and Newmarket.