Over the last 20 years, we have seen a substantial rise in wellbeing programmes running throughout the country. SMEs, large blue-chip companies, national public bodies and NGOs are all becoming increasingly supportive of their staff, and over those years we've teamed up with thousands of organisations to help them tackle workplace stress and make their staff feel truly valued.
When is Massage at Work Week?
This year Massage at Work Week will be running from the 3rd - 9th June 2019, and was founded last year for two main reasons:
To promote and celebrate the benefits of having massage in the workplace
To give advice and support the organisations wanting to introduce massage into their workplace
Here at Sense Massage Therapy, we can help to fulfil both of these goals. Whether you're already a seasoned wellbeing pro with regular mindfulness, yoga or massage sessions booked in your office, a complete massage-at-work newbie, or simply looking for more information, we have the right solution for you. Take a look at the sections below for our simple guide and breeze your way through massage at work week.
What is On-Site Chair Massage?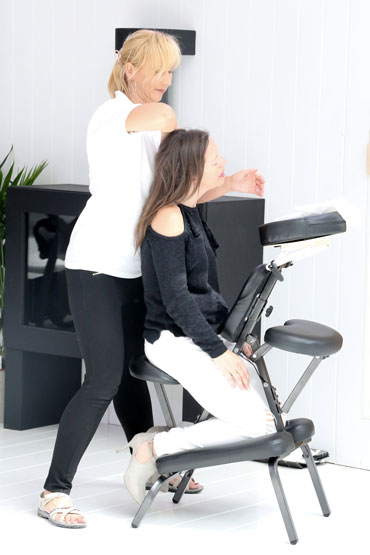 On-Site Chair Massage is a treatment specifically designed for the workplace, with massages provided in a portable chair that can be set up anywhere and adapted to suit each individual. It is quick, clean and easy: there is no need to disrobe as no oils or creams are used during the massage, and you are able to head straight back to work, energised after your treatment.
Our massage therapists will apply soothing acupressure techniques along the back, neck, arms, shoulders and head in order to relax and rejuvenate each individual. Take a look at our blog for more information on what to expect with office massage.
Why should I get a massage?
The benefits of corporate massage are huge for both employees and employers. From an increase in staff productivity to an instant morale booster, massage can actually save your company money. Employees ultimately give more to companies that look after them, and through investing in your staff, you reduce the chance of losing money through sick days. Keeping your workers happy and motivated is easier than you think, and even a small gesture like workplace massage can do wonders and deliver immediate results.
As for those receiving a treatment, the benefits are significant:
Reduces stress
Decreases anxiety and depression
Boosts energy and morale
Improves quality of sleep and reduces fatigue
Lowers blood pressure
Increases focus and mental clarity
And much more!
How long does a treatment take?
Treatment lengths can vary to suit your needs, but we typically recommend a 20-minute treatment. We also offer 15 and 30-minute massages and can work around different timings if you have any specific requirements.
How much does it cost?
Our prices are competitive because we specialise in providing quality workplace massage to the masses.
Check out our full price list here or get an instant bespoke quote right now.
Who pays for the office massage?
That's entirely up to you. Many companies pay for the treatments and can claim this a tax-deductible way of dealing with mental health awareness and stress management in the workplace. Some companies ask staff to contribute towards the cost.
Whatever you choose, our on-line booking system gives companies full visibility of who has booked to allow your HR or payroll team to manage everything smoothly.
Do you offer any discounts?
We do indeed! In return for regular bookings our hourly rates reduce to:
1-hour booking = £100.00
2-hour booking (£55ph) = £110.00
3-hour booking (£45ph) = £135.00
4-hour booking (£40ph) = £160.00
All prices above exclude VAT. 
What other services do you provide?
To complement our most popular treatment, On-Site Chair Massage, we provide Desk Massage, Reflexology, Indian Head Massage, Yoga classes and Mindfulness classes, so there is definitely something for you!
Alternatively, we offer Wellbeing Day packages including helpful advice on how to boost your office's health, happiness and morale. Take a look at our blogs below on some cost-effective ways to tackle stress in your workplace:
My company is way out of town; is that a problem?
Not at all. We have lots of qualified therapists located all around the UK, and if we don't have somebody near to you then it's only a small charge to cover one of our therapist's travelling costs.
Can I just book a one-off session to try it?
Of course. Simply contact us for a quote, visit our website and talk to one of our team members on the web chat, or call the office at 0800 488 0606.
We like to make things as easy as possible for our customers, so do get in touch: we're always happy to help and will get your first day booked in no time at all.
About Sense Massage Therapy
If you're new to Sense Massage Therapy, here's what you need to know. Sense is one of the leading suppliers of massage healthcare related services into the business-to-business sector in the UK & Ireland.
On-Site Chair massage has been our main focus for 20 years, but over that time we have adapted our services to better meet the needs of our customers. Whether that is corporate office massage, Yoga and mindfulness classes, promotional events and exhibitions across the UK & Ireland.

Sense has hundreds of expert therapists and instructors to provide organisations of every size with a trustworthy, reliable and consistent service. When you book with Sense, you will be helped every step of the way by our superb admin team. Our unique on-line systems make everything really easy for everyone involved, because booking your office massage treatments should be almost as relaxing as receiving them.