Desk Massage in Saltdean
Office Based Massage for Companies in Saltdean
Forward thinking companies in and around Saltdean are opting for office massage to help motivate, incentivise, revitalise and retain hardworking staff - and you could be too! Our massage therapists located in and around Saltdean offer a range of treatment options, from hand and foot reflexology, Indian head massage, on-site chair massage and more, there's an option to suit everyone.
Exhibitions and Marketing Teams in and around Saltdean Love Our Corporate Massage Service
Help your company stand out from the crowd in a sea of exhibition stands or create a lasting impression on potential customers as a memorable part of your marketing campaign with an on-site therapist. You can even establish and further nurture relationships with partners or employees at corporate wellness events with on-site massage, and Sense have already worked with many companies all over the UK and Ireland, including Brighton and Hove, improving their brand image and helping engage both staff and customers through the wonders of massage.
Massage and Wellbeing Classes for Wellness Events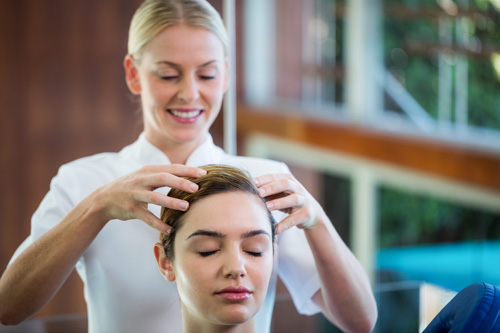 You can also include on-site massage as part of corporate wellness days or a variety of wellness events, such as health exhibitions and so much more. As part of our Wellness Package we offer classes such as mindfulness and yoga, or you can book these classes on their own if you already have some other activities lined up - but massage is always a winner!
In addition to providing on-site massage for corporate events, we also do massage for home and private events, including everything from evening parties to bigger occasions. We can visit your home for a pamper night in with the girls, making us a perfect addition for Hen Dos and big birthday parties. Alternatively, add massage to the biggest event in your life - your wedding! We regularly provide massage at weddings as it's a wonderful activity for guests to enjoy throughout the day, in between the photos, food and dancing.
End-to-end Massage Events Service
Sense is proud to provide therapists all across the UK and Ireland, to events both big and small, and regularly work in and around Saltdean and across Brighton and Hove. Our vast workforce are also trained in a variety of treatments, so you can always have the perfect therapy for your event. With our professional organisers to guide you through it from start to finish, you'll see why each of our customers come back again and again.
Interested in hiring us for your event or offices? Find out more about the treatments we offer on our services page, or speak to one of our team members who can also take you through the best options to suit your needs and budget.
We're also available in: Brighton, Ovingdean, Moulsecoomb, Preston, Stanmer, Peacehaven, Hove, Hangleton, Lewes and Newhaven.