Corporate Massage in Baldock
On-site Massage for Offices in Baldock: Treat Your Staff To Something New!
Looking for a cool way to treat your staff? An on-site chair massage gives immediate results! We already work with a number of companies in and around Baldock providing on-site chair massage, offering a number of other therapies including Indian head massage and hand and foot reflexology, and with a great number of Sense Massage Therapists based near Baldock we can have someone ready to treat your staff at a moment's notice!
Exhibitions and Marketing Teams in and around Baldock Love Our Corporate Massage Service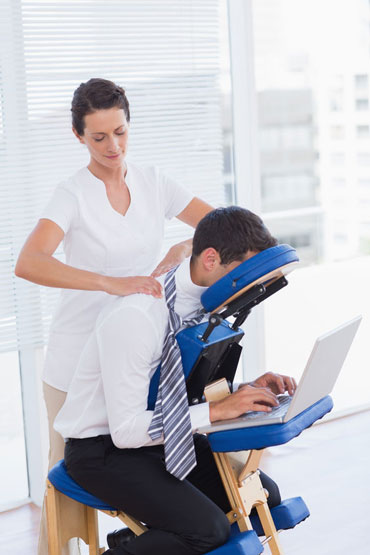 Help your company stand out from the crowd in a sea of exhibition stands or create a lasting impression on potential customers as a memorable part of your marketing campaign with an on-site therapist. You can even establish and further nurture relationships with partners or employees at corporate wellness events with on-site massage, and Sense have already worked with many companies all over the UK and Ireland, including Hertfordshire, improving their brand image and helping engage both staff and customers through the wonders of massage.
Taking Care of Your Staff Makes Sense
Those with their finger on the pulse of modern business know that investing in your staff is one of the best ways to make your business the best! Wellness days are a great way to give back to staff and show that you care, helping you retain their loyalty, create an awesome atmosphere within your workforce, motivate your team and even improve their mental and physical wellbeing. Taking care of your staff has never made more Sense!
As well as offering on-site massage for offices and corporate Wellness Days, massage is a great addition to all kinds of events and needs. From golf days, weddings, hen do's and other special days, to fundraisers, festivals, fetes and community events, massage makes any event one to remember!
The Nation's Experts in On-Site Massage
Sense Massage Therapy is one of the oldest and most experienced on-site massage supplier in the UK, and it's this that sets us apart from the rest. Unlike other massage companies, you'll receive a dedicated account manager who will guide you through each stage of your on-site massage booking, and will be on call throughout your session to ensure everything goes smoothly. With Sense, you can can trust that you'll get a reliable, professional service every time.
Interested in finding out more? View our prices now or call our team anytime to discuss what we can do for you. No matter what your event or budget, we'll be sure to find a solution that's right for you.
We're also available in: Biggleswade, Royston, Stevenage, Hitchin, Sandy, Ampthill, Ware, Kempston, Welwyn Garden City and Bedford.