We all know that when people feel happy and healthy they become enthusiastic and engaged, this energy is what we want to bring into your company!
A great way to get started is by letting your staff know all the benefits that come with having onsite massages in the workplace.
Gone are the days when it was just a nice treat to have a massage at a spa to make you feel a bit better, work massages can bring some pretty powerful health benefits and companies are reaping the rewards.
Overview of massage benefits
Reduces Stress
Relieves muscular tension
Increases circulation
Improves skin quality
Provides increased mobility
Creates posture awareness 
Reduce blood pressure
READ MORE on the Benefits of Massage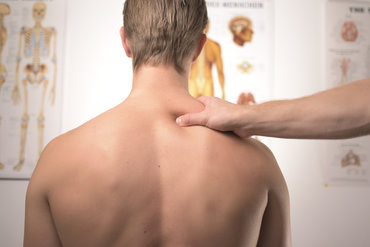 Getting Started 
You're ready and have let the staff know about all the great benefits massages can provide.  You have given the staff the date and the time of when the therapist is going to visit. Next you need to decide if the massages will be held in a room at the office, in an area of an open plan office or will the treatments be provided at the desks?
In a vacant room at the office
The room has been booked, the appointment slots filled, and everyone has filled out their safety form ready to hand to the therapist on the visit day. We like to pre-fill out safety forms as we don't want to waste time filling out forms and it means we can get staff quickly onto the massage chair for the longest most relaxing treatment possible.
You will need a room that has approximately 2 meters square.  The relaxing massage chair takes up about this much space and is about the size of a normal chair with room to walk all the way around. Our fabulous therapists will bring some of their lovely relaxing music on their phone, (no need for PAT testing) which will also be equipped with a clock to keep an eye on the time and ensure the appointments all run to a wonderfully smooth schedule. 
A plant in the room can have some real benefits by lifting spirits and allowing staff to feel more comfortable. Plants are good for air quality, reducing bacteria, dust, and inhibiting mold.  They are great to look at and just brighten up any room.
To get the very best out of any massage a peaceful room with good sound insulation is a bonus.  However, it's good to bear in mind that our onsite massages are provided at the busiest exhibitions centres and the delegates come off the chair just as relaxed and de-stressed as your staff will.
Let everyone know where and when the treatments are due to be held,  even those not taking part as this will avoid any disturbances.
To reach a happy medium with room temperature we recommend a temperature between 20 and 22 degrees Celsius and a room with a window so the area can be cooled if required.  In very hot weather a fan can be extremely beneficial if there isn't appropriate air conditioning or thermostat control in the room provided.
Having a reserve list is good just in case anyone is sick on the day or can't make their appointment.  If available, listing each persons extension number on the appointment sheet, can be very helpful so our therapist can contact the next person on the reserve list directly, again keeping things running smoothly and efficient.
We absolutely want you to have the best possible massage treatment so please let the staff know they can ask for, a firm pressure, light pressure or a specific area worked on for example you may want your tight shoulders given additional attention.
Let the therapist know and they will provide a totally bespoke treatment for each staff member.
Open Plan Office
Follow all of the above advise, however if you are planning to offer massages within an open plan office allocate an area of around 2 square metres that is safe from obstructions and with minimal human traffic. 
Desk Massages
With desk massages there is no need to set up a chair anywhere as the treatments will be provided at each person's desk.  We typically provide these types of massages in open plan call centres.  The appointments tend to be short to allow for minimum disruption to the working day while allowing for tight upper backs and shoulders to be massaged, relieving and reducing tension.  Some companies prefer not to use an appointment system and work on an ad hoc basis (not planned).  When it is convenient for a staff member to have a massage, they indicate to the therapist and let them know they are ready for their treatment.  This works well when working in a large office with multiple staff members.
After the treatment
After the treatment we aim to provide everyone with an after-care card with some advice that we hope you find helpful.  Also, on the back of the card is a QR code, this can be scanned with any smart phone camera and will allow you to give feedback on our service.  This bit is super important as we really want to hear your thoughts and feelings.  We want to make your experience even more wonderful and really value your opinion so this will enable us to continually work to improve our service for you.
To Book Your Day of Onsite Massages Call - 0800 488 0606 or email us through the web site or book online today.