Corporate Massage in Swindon
Office Massage in Swindon and Managing Workplace Stress
Office massage is great for managing stress in the workplace, offering your staff in Swindon time to relax and ease away muscular as well as emotional tension. Offering on site massage as a yearly, quarterly or monthly bonus for staff can also help manage stress levels long term by raising morale and keeping the team motivated, giving them a regular treat to look forward to. We've found regular workplace massage has been particularly helpful in highly-pressurised industries, and we've already helped many companies based in and around Swindon in these stressful niches such as sales, teaching, finance and many more.
Exhibitions and Marketing Teams in and around Swindon Love Our Corporate Massage Service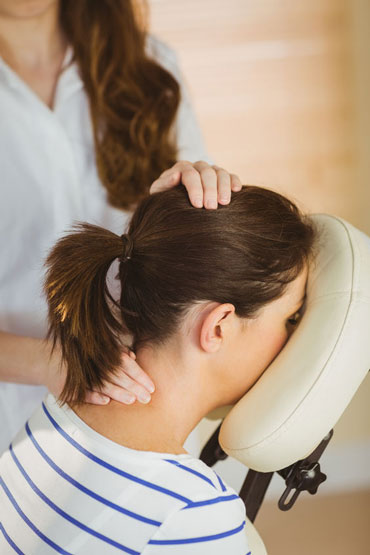 Help your company stand out from the crowd in a sea of exhibition stands or create a lasting impression on potential customers as a memorable part of your marketing campaign with an on-site therapist. You can even establish and further nurture relationships with partners or employees at corporate wellness events with on-site massage, and Sense have already worked with many companies all over the UK and Ireland, including Swindon, improving their brand image and helping engage both staff and customers through the wonders of massage.
Wellness Days are another great way to treat your staff, hosting an entire day of treats focussed around your staff's health and wellbeing. Alongside our on-site massage treatments, Sense also offer instructor-lead classes tailored for these sorts of events, such as mindfulness and yoga, which you can combine with some of our other wellness day ideas that we posted on our blog here.
As well as providing on-site massage for offices and large corporate events, Sense Massage also caters for smaller occasions such as community events, offering everything from sports massage at the end of local sportives to relaxation stalls at festivals and fetes. Whatever your event, big or small, we can guarantee that massage will make it so much more memorable for all involved - and will certainly go down a treat every time!
End-to-end Massage Events Service
Sense is proud to provide therapists all across the UK and Ireland, to events both big and small, and regularly work in and around Swindon and across Swindon. Our vast workforce are also trained in a variety of treatments, so you can always have the perfect therapy for your event. With our professional organisers to guide you through it from start to finish, you'll see why each of our customers come back again and again.
So call us today and talk with a member of our team, or get a free instant quote here. We can't wait to work with you!
We're also available in: Pusey, Calne, Cirencester, Chippenham, Wantage, Carterton, Great Barrington, Devizes, Melksham and Witney.