Workplace Massage in Milton Keynes
On-site Massage in Milton Keynes
Looking for on-site massage in Milton Keynes? You've come to the right place. We have a large number of therapists available in your area ready to provide on-site therapy for whatever occasion you require. From office massage to corporate events, indulge your staff, guests, customers or partners in a relaxing escape from the modern world with a rejuvenating and revitalising treatment. Choose from a number of therapies including reflexology of the hands or feet, Indian head massage or an all-encompassing back, neck and shoulder chair massage.
Corporate Massage: The Perfect Way To Make Your Business Stand Out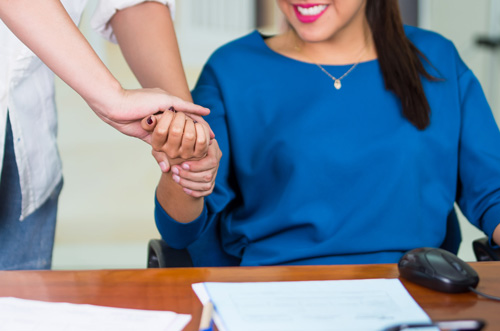 On-site massage is a great addition to many corporate events, from exhibitions and public marketing campaigns, to corporate days such as team building events or corporate wellness days. Massage can not only help your company stand out, but can offer a friendly and inviting way to begin that initial engagement with new potential customers, as well as leaving them with a lasting impression of your business.
Lights, Camera, Massage! On-Set Massage for Film, TV and Other Media
All filming sets can be hectic at times, and we've worked with all kinds of media groups in and around Milton Keynes, helping keep the team and cast motivated and the atmosphere positive - and we can do the same for you! In addition to media sets and stages, our on-site massage therapists also work on a number of other more unusual settings, including local events, festivals, golf days and even weddings, bringing something different to each but always making sure everyone has a wonderful time.
The Nation's Experts in On-Site Massage
Sense Massage Therapy is one of the oldest and most experienced on-site massage supplier in the UK, and it's this that sets us apart from the rest. Unlike other massage companies, you'll receive a dedicated account manager who will guide you through each stage of your on-site massage booking, and will be on call throughout your session to ensure everything goes smoothly. With Sense, you can can trust that you'll get a reliable, professional service every time.
So, what have you got to lose? See our prices now or get your free online quote today. If you prefer, have a chat with one of our team members about how we can help you. You can also check out our blog for regular health tips and information, or try our free online stress test to see if you need a massage yourself!
We're also available in: Leighton Buzzard, Buckingham, Houghton Regis, Ampthill, Kempston, Bedford, Dunstable, Towcester, Aylesbury and Northampton.