Office Massage in Mile End
Office massage and on-site therapies for your staff in Mile End
Office massage is becoming one of the most sought-after solutions to workplace stress, since it not only relieves tension but offers a great incentive for staff too. Massage makes employees feel valued and cared for - and our therapists located near Mile End care too! During the sessions, our Sense therapists are always happy to tailor massages to the individual, so that each and every one of your staff members gets the most out of their treatment. Our therapists based near Mile End strive to give your staff and those within other local companies the best experience possible, so that our efforts also reflect the care you show for your staff by treating them to an office massage.
Corporate Massage: A Range of Treatments for Your Next Corporate Event
Why not liven up your next corporate event and treat your employees or partners to an indulgent massage treatment? We offer a range of on-site treatments including chair massage, reflexology and Indian head massage, all of which are flexible treatments which can be provided in any setting. Sense provide corporate massage for big or small events, indoors and outdoors, and for a wide range of industries - so why not give us a try? Corporate massage is cheaper than you think, and makes a great impression that your guests will never forget.
Offering Bespoke Wellness Day Packages, Unlike Anyone Else in Our Industry
Instead of your regular team-building events for your staff, why not offer them something a little different? Sense Massage Therapy provide bespoke Wellness Day packages, that can include a range of massage treatments, as well as health-oriented classes such as mindfulness and yoga. We create each Wellness Package with your budget and needs in mind, so you and your staff can have the perfect day at the perfect price.
On-Site Massage for Weddings and Hen Nights in Mile End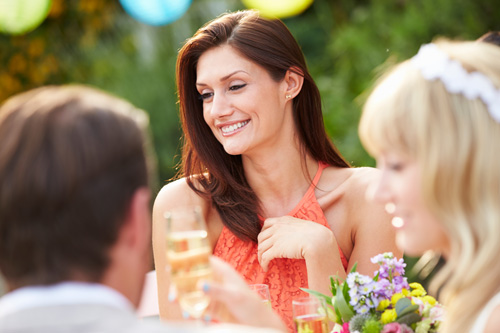 Make your wedding or hen night the event of the year with massages to indulge your guests and make the fondest of memories! Make us part of your girly evening combined with party food, prosecco, and other pampering activities, for a night that you and your ladies will never forget. Alternatively, let us take care of your wedding guests in between the nibbles, and treat them to a soothing shoulder rub or holistic hand massage, ready and loosened up to dance the night away!
If You Don't Love Us, Get Your Money Back
Sense Massage Therapy have been providing chair massage and other massage treatments throughout the UK since 2000, and it's our outstanding service that means that we will continue to be trusted again and again. We're so confident that you'll love our therapists and our service, we even offer a 100% Money-Back Guarantee - which we're proud to say no one has ever wanted to redeem!
Interested in hiring us for your event or offices? Find out more about the treatments we offer on our services page, or speak to one of our team members who can also take you through the best options to suit your needs and budget.
We're also available in: Old Ford, Stratford, Victoria Park, Hackney, Tower Hamlets, Canning Town, Stepney, Whitechapel, Shoreditch and Stepney Green.