On-Site Chair Massage in Holdenhurst
On-site Massage for Offices in Holdenhurst: Treat Your Staff To Something New!
Looking for a cool way to treat your staff? An on-site chair massage gives immediate results! We already work with a number of companies in and around Holdenhurst providing on-site chair massage, offering a number of other therapies including Indian head massage and hand and foot reflexology, and with a great number of Sense Massage Therapists based near Holdenhurst we can have someone ready to treat your staff at a moment's notice!
Make Waves with Massage: Massage and Marketing Promotions
Marketing your brand well in the modern age can be incredibly powerful, and offering massage as part of your next promotion is a great way to promote yourself as a company that cares for its customers. Corporate massage is also a great way to intrigue customers and get them to engage with your marketing efforts, helping you gain that initial interest and create a brand relationship that will last. Many companies also use corporate massage at other corporate events to nurture relationships with existing clients, partners or even staff, giving something back and creating a more meaningful business connection.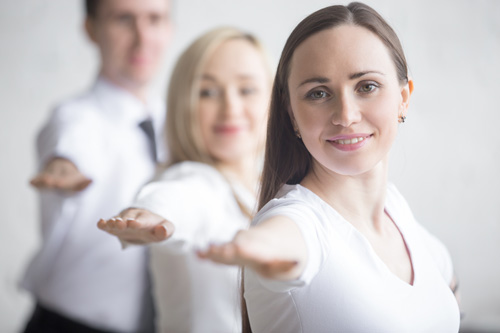 Sense Massage also provide a number of other services including classes such as mindfulness and yoga, which are ideal for corporate wellness days. As well as being a great incentive for staff and a motivator for throughout the year, Wellness Days also offer a chance for teams to come together and bond, taking the time to really reground themselves and de-stress together.
In addition to on-site and events massage, Sense Massage Therapy also works with those in the media industry, providing massage treatments to those on set, from the actors, their crew and the editing team to the backstage crew at music performances and the performers themselves. Massage keeps everybody motivated, happy and relaxed within what can be a very hectic and stressful atmosphere, and helps make everybody more driven to get things done.
Sense Makes Massage Simple: No Stress, No Fuss
Sense Massage Therapy is one of the most long-standing and therefore experienced massage company in the UK, and it's our expert knowledge of the industry that mean you can totally relax with us at the helm. With hundreds of therapists based in Bournemouth, we're sure to have the ideal treatment for your office, party or event, and once you've picked your perfect package we'll get it sorted. Simple.
Want to find out more about what we can do for you? Speak with one of our team members today, check out our prices or click here for a free online quote.
We're also available in: Pokesdown, Boscombe, Winton, Moordown, Bournemouth, Southbourne, Wick, Westbourne, Kinson and Wallisdown.