Desk Massage in Glenfield
Office Massage in Glenfield: Managing stress in your workforce
Office massage is not only great for managing stress within your workforce, but it is excellent for staff retention, as it's a bonus that makes staff feel valued. Depending on your budget you can even get staff to contribute to their massage, offering a subsidised massage which is still a wonderful treat for your employees.
Corporate Massage: A Range of Treatments for Your Next Corporate Event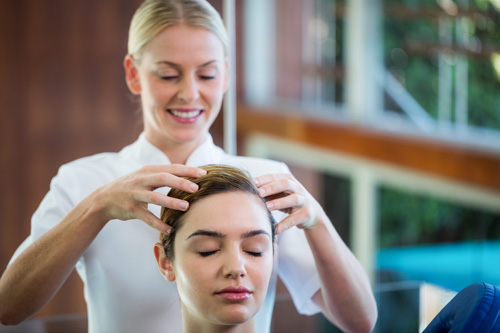 Why not liven up your next corporate event and treat your employees or partners to an indulgent massage treatment? We offer a range of on-site treatments including chair massage, reflexology and Indian head massage, all of which are flexible treatments which can be provided in any setting. Sense provide corporate massage for big or small events, indoors and outdoors, and for a wide range of industries - so why not give us a try? Corporate massage is cheaper than you think, and makes a great impression that your guests will never forget.
Wellness Classes Are Always a Winner
Looking for an activity for your event that's a little different? We offer a range of wellbeing services alongside our full selection of massage options, including wellness classes such as mindfulness and yoga. These are often a great addition to staff training days, helping enhance employee engagement in the training day as well as giving a special bonus to workers.
Lights, Camera, Massage! On-Set Massage for Film, TV and Other Media
All filming sets can be hectic at times, and we've worked with all kinds of media groups in and around Glenfield, helping keep the team and cast motivated and the atmosphere positive - and we can do the same for you! In addition to media sets and stages, our on-site massage therapists also work on a number of other more unusual settings, including local events, festivals, golf days and even weddings, bringing something different to each but always making sure everyone has a wonderful time.
Looking After Your Staff Makes Sense
Whilst it may not be your first reason for opting for on-site massage, at Sense Massage Therapy, we know that looking after your staff pays. We've seen it. Reduced sick days; reduced absenteeism due to lack of motivation, stress or a multitude of other reasons; and most importantly, reduced staff resignations; are all common benefits of a regular staff care program - and massage offers this as well as numerous other health benefits. Motivating your staff and taking care of them can really pay off long term - and not just in the bank! The respect, loyalty and commitment you will earn from staff members is worth more than you can ever imagine.
Interested in learning more about on-site massage and the therapies we offer? Visit our service page to find out all about each treatment, or get in touch with our team today.
We're also available in: Braunstone, Dane Hills, Narborough, Broughton Astley, Earl Shilton, Leicester, Evington, Knighton, Aylestone and Belgrave.