Chair Massage Quick Facts
Duration: Usually 10, 15 or 20 minutes
Body parts treated: Back, neck, shoulders, arms, head and hands
Techniques used: Acupressure, effleurage, pettrisage, indian head massage
Equipment: Traditional massage chair
What is chair massage?
Chair massage - also known as seated massage - is a type of massage that takes place on an traditional massage chair, designed to take the weight off the spine and give easy access to the head, neck, back, shoulders and arms. The massage is done over the clothes and does not require oils. This makes it a great mobile service, frequently utilised at events, corporate settings and exhibitions, as well as within the workplace.
What to expect from a chair massage treatment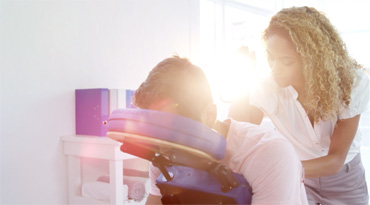 All massage treatments should always begin with a quick safety check to ensure that you are fit and well, and do not need to highlight any health issues to your therapist. Following this, you will be shown how to sit on the massage chair. You do not need to remove any clothing, as skin-to-skin contact is not needed - just ensure that you are a comfortable temperature and wear layers as needed.
The therapist will then use a mixture of acupressure techniques across your back, shoulders, arms, hands, neck and head. If you wish to have extra work on certain areas it is best to request this before the treatment so as not to interrupt your moment of relaxation, or of course, simply mention during the treatment that you can have extra time spent on your trouble areas. The therapist will generally avoid areas that have suffered prior injury so as not the aggravate the condition.  
History of the massage chair
In 1986, David Palmer first filed the patent for the first traditional massage chair which was originally dubbed "a chair in a box", inspired two years earlier by French cabinet maker, Serge Bouyssou.
David writes about his first encounter with Bouyssou:
'The first time we met I explained the concept of seated massage and told him my specifications. "I want a chair with a Balans-style base that also supports the customer leaning forward into an angled chest and face support with a place to rest the arms. Oh, and by the way," I said, "it has to be portable."

Serge took this all in for a moment and then said, "Oh. You want a box." "No, no," I replied, "I want a chair." More firmly he insisted, "No. You want a box." Then he went to the whiteboard and proceeded to draw out how a chair could be built using a box as a base and with detachable supports–which could be stored inside the base–for the rest of the body. "You're right," I finally agreed, "I want a box."'
Bouyssou and Palmer collaborated on the massage chair design, working with Jim Everett, the owner of Living Earth Crafts (a massage table manufacturer in California) to finally release the first chair to market.
The first "box" massage chair weighed 28 pounds and was the first collapsible chair designed for massage that could safely support a person. David then went on to teach chair massage classes across 24 massage schools across Europe, Canada and the US, sparking the massage chair revolution.
So, Where is The Massage Chair Used Now?
Palmer predicted the chair massage would one day be as common and easily available as getting a haircut - and whilst we don't quite have a massage chair on every corner, the massage chair revolution is certainly growing faster than ever.
Rather than featuring in shopping centres and airports as Palmer envisaged, mobile massage is now prominent in the workplace, providing relaxing and revitalising treatments around the world. It is also frequently utilised at both corporate and domestic events, from exhibitions and marketing promotions to pamper parties and weddings.
Want to join the massage revolution? Get some relaxation into your life today, boost your team or boost your work promotions!
You can bring mobile massage into your workplace by suggesting chair massage to your manager, consider the benefits of massage at your next event or party, or even plan a pamper evening and enjoy the indulgence of chair massage in the comforts of your home.


To find out more about the on site chair massage treatments we provide, check out our on-site massage article here, message us on our live chat or give our friendly team a call.